/ Library of Congress Names Ambassador for Children's Literature
Library of Congress Names Ambassador for Children's Literature
Updated February 21, 2017 |
Factmonster Staff

Popular writer Jon Scieszka named the first ambassador
by Beth Rowen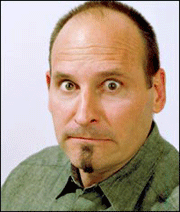 Jon Scieszka making a wonderfully crazy face
Related Links
United States ambassadors represent the nation at the United Nations and in countries all over the world. The country's newest ambassador, however, probably won't be expected to travel abroad. In January 2008, the Library of Congress announced that offbeat children's book author Jon Scieszka had been named the first National Ambassador for Young People's Literature.
Scieszka, who wrote The Stinky Cheese Man and Other Fairly Stupid Tales, which won a Caldecott Medal, and the Time Warp Trio series, will use his new position to try to motivate kids to read and get them excited about books. Recent studies have shown that reading is on the decline among kids.
Indeed, a recent study by the National Endowment for the Arts reported that the number of 17 year olds who said they never or hardly ever read for fun increased from 9% in 1984 to 19% in 2004. For 13 year olds, 13% said they never or hardly ever read for fun in 2004, compared to 8% in 1984. The study also found that kids who read for enjoyment regularly score higher on reading tests than kids who don't.
"Jon Scieszka will be an articulate emissary, promoting reading and literature among young people, which are important for the health and creativity of our democratic society," said James Billington, the Librarian of Congress. "We think it's very important to have an evangelist for reading."
Scieszka will hold the ambassadorship for two years and earn $50,000, which is funded by Cheerios and several book publishers. As ambassador, he will travel around the country and speak to children about how fun and rewarding reading can be, not to mention the importance of it. He was chosen for his contribution to children's literature and his natural ability to relate with children.
Scieszka was born in Flint, Michigan. Before becoming an author, he taught at the elementary school level for 10 years. He also created Guys Read (www.guysread.com), a nonprofit literacy organization that introduces boys to books targeted at boys. He edited the book Guys Write for Guys Read, which is a collection of essays written by men.