/ Order of the Phoenix Does Not Disappoint
Order of the Phoenix Does Not Disappoint
Updated February 21, 2017 |
Factmonster Staff

Fans dazzled by special effects
by Mark Zurlo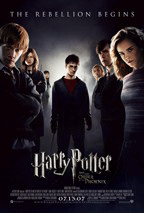 Order of the Phoenix Quizzes
More on Harry Potter
Successfully adapting a mammoth 870-page book to fit the big screen is a daunting, and some would say impossible task, especially when that book features as many complex characters and plot lines as Harry Potter and the Order of the Phoenix. Director David Yates and screenwriter Michael Goldenberg have done just that, creating a film that is every bit as spellbinding as the print version and one that easily eclipses the previous four installments in the franchise.
Film Faithful to the Book
The filmmakers skillfully remained faithful to J.K. Rowling's novel, including all major events, while never making the film feel rushed or disjointed. The special effects, as they have been in the past films, are once again dazzling, highlighted by scenes in which the characters conjure their own ghost-like Patronuses and by Lord Voldemort's summoning of an enormous fiery serpent.
While supporting actors Rupert Grint (Ron Weasley) and Emma Watson (Hermoine Granger) do not play as large of a role as they have in past films or in the print version, other supporting characters have emerged as stars. Indeed, Imelda Staunton reveals her versatility in her portrayal of Professor Umbridge, who is every bit as detestable on screen as she is in the novel. Alan Rickman continues to shine in the role of Severus Snape, and Helena Bonham Carter as Bellatrix Lestrange and Gary Oldman as Sirius Black also impress in their short time on screen.
Comic Relief a Welcome Twist
Another strong element of the film is its inclusion of comedic relief, some of it developed for the film by Rowling, and some of it original, throughout what is otherwise a tense and somewhat dark tale. As is the case with most film adaptations, there are some areas that fall short of the book, such as the failure to develop Harry's relationships with Dumbledore, Snape, and Cho. Such omissions, however, are only likely to concern the most rabid Harry Potter fans, as inclusion of such details could have slackened the film's brisk pace.
While the first four Harry Potter films have often seemed as memorable for what they left out as for the quality of the movie, screenwriter Goldenberg and director Yates have done a masterful job of bringing The Order of the Phoenix to life in their debut as Harry Potter filmmakers. Fans of the bestselling series will undoubtedly be satisfied by this fifth installment; like Harry on the quidditch field or Hermonie in the classroom, this film passes with flying colors.