/ Things Kids Can Do: Run a Bow-Making Business
Things Kids Can Do: Run a Bow-Making Business
Updated May 12, 2017 |
Factmonster Staff

By Logan Chamberlain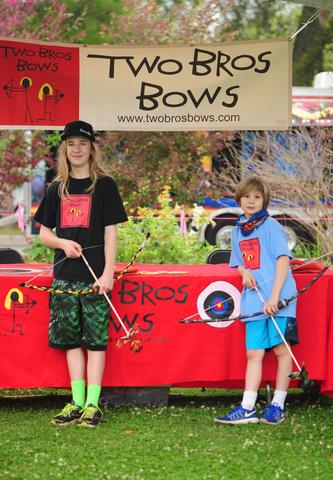 In this new semi-regular FactMonster feature, Things Kids Can Do, we're going to be taking a look at some of the remarkable things kids have done around the world. And to start, we're going to look at two brothers who made it big in the toy/sporting goods industries.
Two Bros Bows
I first discovered Two Bros Bows while working at a toy store. Our owner had just come back from Toy Fair and told us about these toy archery bows being sold by a duo of young brothers from North Carolina. Not long after, we had people coming into the store looking for them. Two Bros Bows is now a million-dollar company. So how did this phenomenon start?
If You Want Something, Make It
These two brothers from North Carolina named Duncan and Hayden saw the movie Brave and decided they wanted a real bow of their own. But, professional archery bows are expensive, so they tried to brainstorm a way to make their own bows. They took out a $50 loan from their mother Elisha to buy the materials they needed.
Duncan and Hayden thought that if they wanted bows, it was likely that other people probably did too. With a bit of help from their mom, the boys came up with a design for a durable, kid-friendly bow (and some safe, foam-tipped arrows). They began making them in their family's apartment, then sold them at a local craft fair. Fifteen of their first 18 bows sold. They had the money they needed, but they decided to put their money back into making more bows to sell. Eventually they were making so many bow that they ran out of room in their apartment and had to get storage elsewhere. That was when they decided to really branch out.
Now, Two Bros Bows continue to make their bows better, and have begun making accessories like quivers and targets to go along with them. They've added several employees to keep their manufacturing running smoothly. The boys themselves work hard marketing their bows and working on creative advertising to grow their business even more!
Things You Can Do
Do you have an idea for something cool or useful? Are there any craft fairs or markets nearby where you can sell that item? If so, try your hand at inventing something cool! Look up different materials and techniques you can use to make your invention the best it can be. And don't be afraid to ask for a little help! Ask your local librarian to find books on inventions, read Make: Magazine for some ideas and view inventors on YouTube with your parents.
If you would like to nominate a kid for our Things Kids Can Do feature, please email us at editors[at]factmonster.com.