/ Best Video Games for Kids
Best Video Games for Kids
Updated February 21, 2017 |
Factmonster Staff

From Super Smash Bros. Brawl to Space Invaders Extreme
by Dana J. Quigley
The overwhelming number of video games on the market leaves many gamers wondering which games are worth the investment of time and money. This list of ten console games will help alleviate some of that confusion and will provide titles to delight even the most discriminating players.
Super Smash Bros. Brawl
Developer: Nintendo of America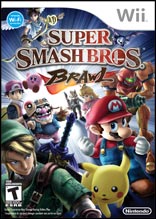 Platform: Wii
Category: Fighting
ESRB: Teen (cartoon violence, crude humor)
Price: $49.99
The third installment in the Super Smash Bros. series surpasses its predecessors. Packed with more than 35 playable characters (such as Mario, Sonic, Pikachu, Zelda, and Solid Snake), players test their skills in the extensive single-player campaign or battle it out with friends in the multiplayer mode. As always, the game provides endless hours of button-mashing fun with plenty of unlockable content and stages.
The World Ends with You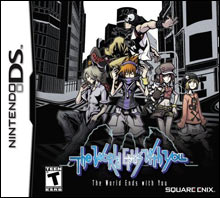 Developer: Square Enix
Platform: DS
Category: Role playing
ESRB: Teen (fantasy violence, mild language, mild suggestive themes)
Price: $39.99
Set in the trendy Shibuya district of Tokyo, protagonist Neku finds himself in a life-or-death game with a group of menacing grim reapers. The fantastic j-pop musical score, intuitive battle system, great storyline, and unique artistic style compel players to help Neku gain back his life and save the world. The addictive gameplay and fast-paced action leaves players itching to play more—and they are in luck because the game boasts a high replay value.
Ratchet & Clank Future: Tools of Destruction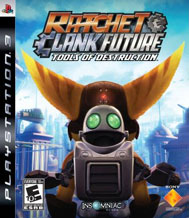 Developer: Insomniac Games
Platform: PS3
Category: Action
ESRB: Everyone (alcohol reference, animated blood, crude humor, fantasy violence, language)
Price: $59.99
Everyone's favorite Lombax and robot duo have made their explosive debut on the PS3, leaving critics raving that the game plays like a PIXAR movie and sets the standard of graphic quality for any PS3 game. Players follow Ratchet and Clank as they discover Ratchet's past and save the future of the universe from an infestation of Cragmites. With gadgets like the Groovitron (a floating disco ball that entrances enemies into showing their funky dance moves) and weapons such as the Tornado Launcher (a device that launches a massive tornado that can be controlled with the movement of the SIXAXIS controller), gamers are sure to have a blast while blowing their enemies to pieces.
Mario Kart Wii

Developer: Nintendo of America
Platform: Wii
Category: Racing, Sports
ESRB: Everyone (comic mischief)
Price: $49.99
Navigating a roster of Mario-series characters through booby-trap-laden racetracks has never been more fun. With the Wii remote's motion-sensing capability, players have hands-on control of their go-karts as they battle their way to the finish line. Newcomers to the Mario Kart legacy will be pleased with the accessibility of the game, while hardcore fans will rave about the online play—though both sets of fans will likely be equally afraid of the souped-up blue-shells.
Final Fantasy VII: Crisis Core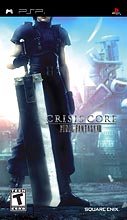 Developer: Square Enix
Platform: DS
Category: Role playing
ESRB: Teen (fantasy violence, mild language, mild suggestive themes)
Price: $39.99
The game is set seven years before PlayStation's hit Final Fantasy VII. Players control Zack Fair as he becomes a first-class member of SOLDIER, a group of elite fighters, and unravels the organization's dark history. Fan favorites such as Cloud Strife and Sephiroth make appearances throughout the game and add to the overall coherence of the prequel. With graphics that take full advantage of PSP's visual capabilities, players can enjoy more than 300 action-packed missions in the familiar world of Gaia.
Rock Band
Developer: Harmonix Music
Platform: PS3, Xbox 360, Wii, PS2
Category: Music Simulation
ESRB: Teen (lyrics, mild suggestive themes)
Price: $109.99-$169.99
Developed by the makers of Guitar Hero, Rock Band features the same great concept with an even better experience. Though the price is very steep, the game bundle comes with a guitar controller, drum controller, and microphone peripheral, as well as the ability to support an additional guitar. Players will use the peripherals as they are challenged to rhythmically keep pace with the game's track list and various modes of difficulty. Unfortunately, only PS3 and Xbox 360 gamers can download additional tracks via their respective networks.
Patapon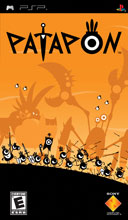 Developer: Sony Computer Entertainment
Platform: PSP
Category: Action, Platform
ESRB: Everyone (mild cartoon violence)
Price: $19.99
This unique, eye-catching game charms players with its addictive rhythm-based control system and quirky characters. Players control silhouetted inkblot-like creatures called Patapons and must ensure their safe journey to Earthend. Using specific sounds and beats that are produced by war-drums via the control pad, players control the Patapons. Though the controls appear simplistic at first, they evolve into an intricate system that increases in difficulty as new combos and rhythms are acquired.
LEGO Indiana Jones: The Original Adventures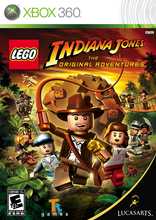 Developer: Traveller's Tales
Platform: DS, Wii, Xbox 360, PS2, PS3, PSP
Category: Action, Adventure
ESRB: Everyone (cartoon violence)
Price: $29.99-$49.99
The makers of LEGO Star Wars have done it again. As the title implies, LEGO Indiana Jones reimagines plots of the first three Indiana Jones films in LEGO form. As the LEGO Professor Jones, players traverse the various tombs, jungles, and other memorable landscapes in pursuit of artifacts. The light-hearted re-imagination is packed with great puzzles, humor, and 83 un-lockable characters.
Burnout: Paradise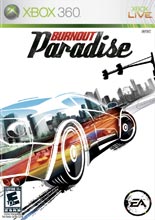 Developer: Criterion Studios
Platform: Xbox 360, PlayStation 3
Category: Racing, Sports
ESRB: Everyone (language, violence)
Price: $39.99
The latest installment in the Burnout series has proven to be its biggest and best yet. Paradise allows players to initiate races throughout the city map, rather than having to rely on different maps for individual races, and lets drivers plot out their race routes before starting. Content aside, the graphics are amazing and boast the most realistic car smashups seen in a racing game to date. The game sports 75 playable cars and online gameplay.
Space Invaders Extreme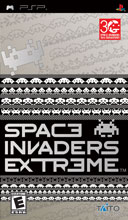 Developer: Square Enix
Platform: DS, PSP
Category: Shooter
ESRB: Everyone
Price: $19.99
Marking the 30th anniversary of the original Space Invaders, this is a must-have for any PSP or DS owner. This new take on Space Invaders is infused with great audio and stunning visuals, and moves at a brisk pace. Upgrades, such as lasers, bombs, and shields, are vital in this reincarnation, with the invaders proving deadlier and trickier than ever before. DS players can compete with friends over the internet or a Wi-Fi connection, but PSP players can only compete via ad-hoc mode. This updated classic is perfect for players who have been looking for a game that combines old-school charm with the new generation's desire for a lightning-fast pace.