Earthquake in Turkey
Updated February 21, 2017 |
Factmonster Staff

Learn earthquake basics in Earthquakes 101.
Earthquake epicenter: near Izmit, an industrial city about 55 miles east of Istanbul on the Sea of Marmara.
Aftershocks: at least 300 aftershocks followed in the first 48 hours—the largest reported to have been a magnitude of 5.5.
Magnitude: estimated between 7.4 and 7.9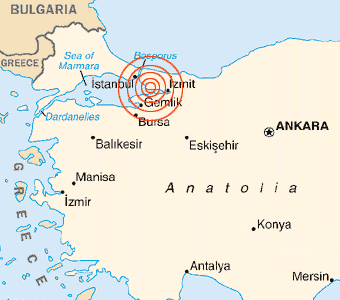 Cause: this region of Turkey rests above the North Anatolian fault, which is wedged between two huge tectonic plates, Eurasia and Africa/Middle East. As the plates grind against each other they put pressure on the North Anatolian fault, which periodically ruptures.
Casualties: by Monday, August 23, the official crisis center reported 12,148 dead. On Tuesday, August 24, CNN reported more than 14,000 dead and 200,000 homeless.