The Endurance
Updated February 21, 2017 |
Factmonster Staff

The Endurance
Shackleton's expedition trapped by an iceberg in the South Atlantic
---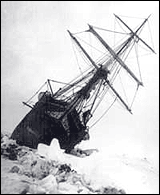 On December 5, 1914,
Ernest Henry Shackleton
, an Irish explorer, and 27 men set sail on
Endurance
for Antarctica. The crew planned to make a Trans-Antarctic land crossing. Sixty miles from their landing point, the
Endurance
became trapped in ice and the men were forced to make the ship their home for the winter.
Surrounded by the ice, the ship drifted from place to place for nine months, unable to break free. Eventually the ice crushed the
Endurance
, and the men were left on the ice pack with three lifeboats and little provisions. Trekking to Elephant Island, the men, weak and malnourished, set up temporary camp with the two lifeboats.
Shackleton and several men set out in the remaining lifeboat to seek help at a whaling station on
South Georgia Island
, 800 miles away. After 16 days of terrible seas and mishaps, they were forced to go by land 22 miles over steep mountains to the other side of the island.
Shackleton eventually rescued all the men on Elephant Island. It is to the credit of the amazing strength and leadership of Shackleton that not one person lost his life in the incredible ordeal that lasted almost two years.