Fact Monster Wins Webby Award!
Updated February 21, 2017 |
Factmonster Staff

Astonished Fact Monster Wins Webby!
Creature overwhelmed with happiness
---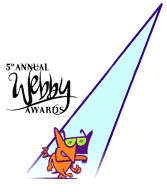 Fact Monster in raptures
Deeply moved by the honor, the Fact Monster commented, "I'm just an ordinary monster single-mindedly devoted to collecting facts and interesting bits of knowledge for kids." The Monster was particularly taken with the Webby Award itself, a coiled, slinkyesque contrivance, which the creature believes will make an especially handsome conversation piece in its lair. The Creature's orange and blue face darkened for a moment as it worried out loud whether its own webbed hands and feet had given it an unfair advantage in the stiff competition for the Webby.
Wherefore art thou Fact Monster?