/ Features
/ People
King Charles III of England
Updated September 14, 2022 |
Factmonster Staff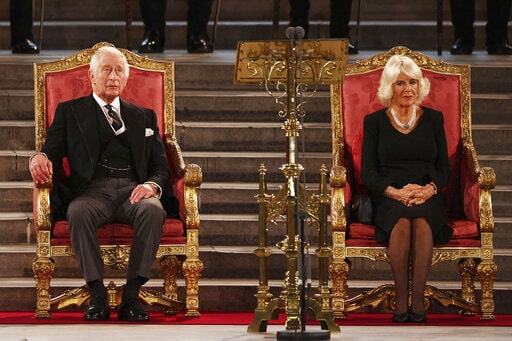 The Queen is dead, long live the King.
This phrase has been used for centuries to signify the unbroken continuation of the British Monarchy.
The death of Queen Elizabeth II on September 8, 2022, brought to an end the longest reign of any British monarch— 70 years and 214 days. As her eldest child, her son Charles, Prince of Wales ascended the British throne. Upon doing so, he became King Charles III of the United Kingdom and the head of state of 14 other Commonwealth nations.
He is the first British King since his grandfather, King George VI, and the first one to be named Charles in over 350 years.
But who is the new King of the United Kingdom? One must read on to find out. 
Charles, Prince of Wales
King Charles III was born Charles Philip Arthur George on November 14, 1948 in Buckingham Palace, the main London residence of the British royal family. He was the first child of then Princess Elizabeth and Philip, Duke of Edinburgh (later, Prince Philip)
A month later, Charles was baptized into the Church of England by the Archbishop of Canterbury, in line with requirements for the British monarchy,
The death of Charles's grandfather, King George VI, in 1952, meant Elizabeth became Queen and Charles became heir-apparent at the age of three. He also inherited several titles, including the Duke of Cornwall. 
Education
Following royal tradition, Charles's early education was initially the responsibility of a governess (a female tutor). However, Charles then became the first British heir-apparent to attend school— Hill House School, an independent preparatory school in Knightsbridge, London. 
He then attended two schools his father had attended— Cheam in Berkshire, England and Gordonstoun, a remote establishment on the northern coast of Scotland. He also spent some time at Geelong Grammar School in Victoria, Australia. According to Charles, this was the most enjoyable part of his education.
Charles is reported to have despised Gordonstoun, having endured bullying and grueling educational practices there. Despite this, he still became head boy, and has since praised the school for instilling high standards and preparing him for the challenges of later life. 
Following school, he was admitted to Trinity College, Cambridge, where he studied archaeology, anthropology and history. He also studied Welsh history and language at the University College of Wales. 
Military Service
After becoming the first British heir-apparent to gain a degree, Charles embarked on a military career. However, he never saw combat. As the heir to the throne, it was considered too risky.
His military training and service were vigorous nonetheless. He began in 1971 with a stint in the RAF, learning to fly jets at RAF Cranwell. After completing his training, he then joined the Royal Navy and began a six-week training course at the Royal Naval College, Dartmouth.
He then saw active service for around three years, stationed on the destroyer HMS Norfolk and then two frigates, HMS Minerva and HMS Jupiter. 
In 1974, he trained as a helicopter pilot, and flew naval helicopters based on the aircraft carrier, HMS Hermes. He took his final posting in the Navy in 1976, when he commanded the coastal minehunter HMS Bronington for about ten months. 
That marked the end of Charles's official military service, though he did complete parachute training in 1978 (at the grand old age of 30, he was much older than the other recruits). After being appointed Colonel of the Parachute Regiment, Charles insisted on taking the training, saying he wouldn't be able to look the soldiers in the eye if he couldn't do what they did. 
Charles was later given the highest rank in all three armed forces by Queen Elizabeth II. 
Prince Charles and Princess Diana
After being romantically linked with several women during his youth (including his second wife, Camilla) Charles met Lady Diana Spencer at her home in 1977. He was actually accompanying Diana's older sister, Sarah, who he was dating at the time. 
While Charles and Diana got on well, romantic involvement didn't begin until 1980, after Charles and Sarah had separated. Their whirlwind courtship drew relentless media interest, and in February 1981, Charles proposed, despite them only having met on a few occasions and the fact Diana was 13 years younger than him. 
There were suggestions that Charles was pressured into marrying Diana as she was seen as an ideal princess, and that may have led to the hasty betrothal. Indeed, she was widely adored by the British public thanks to her charisma, kindness, and style. 
Marriage and Children
Charles and Diana married in July 1981, with a lavish wedding held at St. Paul's Cathedral, London. Hundreds of thousands of people lined the streets and over 750 million around the world watched on television.
Diana soon fell pregnant, and in June 1982, she gave birth to their first son, Prince William. Their second son, Harry, was born in September 1984. While Charles was present at both of his sons' births, he was a rather distant father, his extremely demanding royal duties often preventing him from being with his sons.
Scandal, Separation, and Divorce
It soon became clear that Charles and Diana were not compatible, with their differing personalities, interests, and ages causing strain on the relationship. They often appeared distant and unhappy when seen in public, and rumors that the marriage had broken down soon circulated. 
It was later confirmed that both Charles and Diana had engaged in extra-marital affairs in the late 1980s, leading to some very public scandals for the royal family to deal with.
In 1993, a telephone conversation from 1989 between Charles and Camilla Parker-Bowles, a married woman with whom he had been romantically linked in his youth, was leaked and widely published. It aired only one month after another leaked phone call between Diana and a male friend was published, revealing details of an indecent conversation between them. 
Charles confirmed in a 1994 interview that he had indeed commenced an extra-marital relationship with Camilla in 1986, but only after it was clear his relationship with Diana had broken down beyond repair. 
In 1992, Prime Minister John Major announced their official separation in parliament. Further media intrusion into the marriage caused more damage to the royal family's reputation. This included the publication of revealing books to which Diana is said to have contributed, as well as a controversial BBC interview in 1995, in which Diana famously said 'There were three of us in the marriage'.  
They were finally divorced in 1996, following formal advice from the Queen to end the marriage. As the mother of the future king, Diana remained part of the royal family and retained the title Princess of Wales. 
The divorce raised questions over whether Charles could be king if he ever married again. As monarch, he would be the head of the Church of England, which does not allow divorcees to marry a second time.
Princess Diana's Death, Prince Charles, and Camilla
A year later, in an event that shocked Britain and the world, Diana was tragically killed when the car she was traveling in crashed in a tunnel in Paris. Her partner, Dodi Fayed, and the driver, Henri Paul, were also killed.
Despite their separation, Charles traveled to France to bring Diana's body home and walked with their sons behind her coffin during her funeral procession in London. 
Diana was still a hugely popular figure and her death caused widespread grief. An inquest found no evidence of foul play and ruled that the crash was caused by Henri Paul's intoxication and the negligence of the paparazzi who were pursuing the vehicle. 
Charles and Camilla had resumed their relationship prior to Diana's death, though it was kept private. They had retained strong feelings for each other since their youth and despite their separate marriages. 
Their relationship finally became public around the year 2000, and following the Queen's approval, they moved into Clarence House, London in 2003. 
They wed in 2005 in a civil ceremony. As divorcees, they were ineligible for a Church of England ceremony. As head of the Church of England, the Queen did not attend the ceremony, but hosted a reception at Windsor Castle afterward. 
Camilla has been a steadfast and supportive presence at Charles's side ever since, though she has had to work hard to overcome low levels of public approval and even resentment from the British public following Diana's death.
Duties of a Prince
In addition to his military service, Charles's duties as the Prince of Wales were extensive— indeed, he has been described as the hardest-working member of the royal family.
Many of his days as Prince of Wales were spent representing the Queen both in the UK and around the world, attending official ceremonies and state dinners, and greeting foreign dignitaries. He often carried out several hundred of these royal engagements every year. 
He is a patron of more than 400 charitable and philanthropic organizations and has invested great effort in causes close to his heart. He is renowned for championing environmental sustainability, but he is most perhaps well-known for his establishment of the Prince's Trust. 
The charity helps over 60,000 young people every year who are struggling with school or unemployment and helps them get their lives back on track.
Queen Elizabeth II: Death of an Era
Queen Elizabeth II, Britain's longest-reigning monarch, was a strong and reassuring presence throughout her life. She very rarely suffered from health problems until her final few months, in which she contracted Covid-19 and was admitted to the hospital with other ailments.
She passed away just three months after the Platinum Jubilee celebrations that marked the 70th year of her reign. Her final major act came just two days before her death, when she received Liz Truss at Balmoral Castle to appoint her as Britain's new Prime Minister (the 15th of her reign).
Charles becomes King
Upon her death on the afternoon of September 8, 2022, Charles immediately became King, though his coronation will not occur until several months after his accession. 
In his first address to the nation, the day after the death of his mother, King Charles III spoke of Queen Elizabeth II's devotion to her role and her people, and how he aimed to continue in that same manner. He also spoke of how he hoped to bring together the diverse population of the UK and support the most vulnerable in society. 
Among several emotional references to his family, he expressed his love for his youngest son and daughter-in-law, Prince Harry and Meghan, the Duke and Duchess of Sussex, who have distanced themselves from the royal family in recent years. 
Funeral Plans
Queen Elizabeth II's state funeral will take place on September 19, 2022, and has been declared a national bank holiday. Her coffin was flown on an RAF aircraft from Scotland to London, and then taken to Buckingham Palace to rest. 
Four days prior to the funeral, the coffin will travel in procession to Westminster Hall. There, it will lie in-state, with the public given access to pay their respects. 
On the morning of Monday, September 19, the coffin will again travel in procession to Westminster Abbey, where the state funeral service will take place. 
Following a graveside service at St. George's Chapel, Windsor Palace, her final resting place will be alongside her parents and sister in King George VI Memorial Chapel (part of St George's Chapel). It's expected that her beloved husband, Prince Philip, who passed away in April 2021, will be moved from the Royal Vault to rest alongside her.
Prince to King: Succession and Explaining the Royal Titles
There had been some speculation over whether Prince Charles might use a different name when he became King. The previous two kings named Charles were not highly thought of as monarchs (Charles I was beheaded for treason, and Charles II was more famous for his amorous adventures).
It was thought that he may instead adopt George VII as his regal name as a tribute to his grandfather. However, he stuck with Charles, perhaps to signify the continuation and stability he wanted his reign to provide. 
Upon King Charles III's accession to the throne, his eldest son, William, became his heir apparent and inherited several titles traditionally reserved for the person in this position. In addition to Prince of Wales, he also became Duke of Cornwall and Earl of Chester. 
As William's wife, Catherine, is now Princess of Wales and has also taken Queen Camilla's former title of Duchess of Cornwall. 
As Charles's wife, Camilla became Queen Consort of the United Kingdom. It had been announced at their wedding in 2005 that Camilla would be known as 'Princess Consort', perhaps due to her lack of popularity at the time. Indeed, she had forgone the title Princess of Wales as a mark of respect to Diana. 
However, In 2022, the Queen announced during her Platinum Jubilee that Camilla should be known as 'Queen Consort' rather than 'Princess Consort' when Charles became King. This seems to be generally supported by the British public. 
When King Charles III dies, William, Prince of Wales will become King William V of the United Kingdom (unless he chooses a different regal name), with Catherine as his Queen Consort. William's eldest child, George, will become heir-apparent. 
What's Next for King Charles III and the Royal Family?
As Prince of Wales, Charles was known for airing his strong opinions and efforts to further his causes. However, as monarch, he will no longer be free to do this, under the limits of the British constitution. 
Traditionally, the British Monarch also gains the title "Defender of the Faith", referring to the Church of England. However, Charles preferred to be seen as a 'Defender of Faith', reflecting his belief that people of all religions should be free to practice their faiths and live harmoniously together.
It is hoped that his reign will promote unity in the increasingly divided kingdom he now rules. 
The British monarchy is a subject of fascination all over the world. Why not test your knowledge with a quiz about Queen Elizabeth II's historic reign, or find out more about the complex system of titles in the ancient British nobility?