/ Features
/ People
Royal Delivery
Updated February 21, 2017 |
Factmonster Staff


Royal Delivery
The world watches and welcomes Prince William and Catherine's first born, a boy named George Alexander Louis.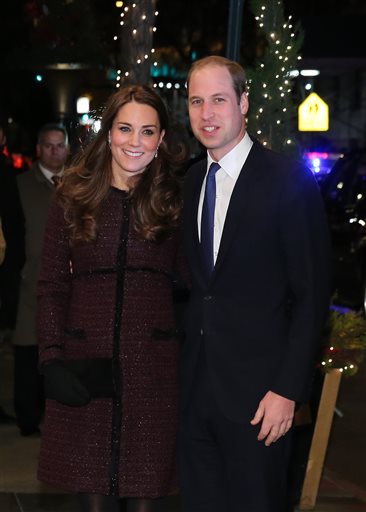 Catherine, Duchess of Cambrdige and Prince William, 2014
Source: Neilson Barnard/POOL PHOTO/ASSOCIATED PRESS
On July 22, 2013, Catherine, Duchess of Cambridge, gave birth to a baby boy named George Alexander Louis. The baby was born at 4:24 p.m. and weighed 8 pounds 6 ounces. Catherine gave birth in the private Lindo Wing of St. Mary's Hospital in London, the same place where Prince William was born.
Public Announcement
News of the birth came via public announcement in a formal bulletin. The bulletin was signed by medical staff and sent to Buckingham Palace in a car, escorted by police. At Buckingham Palace, the notice was placed in a frame and displayed on an easel. The easel was the same one used to announce Prince William's birth. The easel was positioned on the grounds in front of Buckingham Palace so that everyone could see it.
However, the first to know about the royal baby was Queen Elizabeth II. She received a phone call from Prince William. Then Prime Minister David Cameron and the governors general of all the commonwealth nations were notified along with both the royal family and Catherine's family. After that, the official public announcement was sent to Buckingham Palace and displayed.
Heir to the Throne
The baby's name was announced two days after his birth. George Alexander Louis would also have the title His Royal Highness Prince George of Cambridge and would be third in line to the throne, following
Prince Charles
and Prince William. Due to a rule change in 2011 that ended the long-standing tradition that the crown was only bestowed on a daughter when there were no sons, Prince William and Catherine's baby would have been third in line to the throne no matter the gender, because the baby was their first born.
Prince William and Catherine weren't the only happy couple to receive baby gifts. Any baby born in Britain on July 22, 2013, would receive a silver penny from the Royal Mint.
Catherine gave birth to her second child, a girl Charlotte Elizabeth Diana, on May 2, 2015. She weighed 8lbs 3oz. Princess Charlotte of Cambridge, her official title, was fourth in line to succeed Queen Elizabeth II, her great-grandmother.