/ Features
/ Sports
Symbolism of Fire
Updated February 21, 2017 |
Factmonster Staff

by Mark Hughes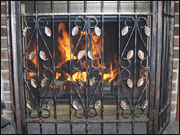 Related Links
Fire has had a very significant role in humanity's development. Its varied uses show the importance of fire for humankind. Some of those uses have been:
In Ritual: many cultures saw fire as being a supernatural force. For instance, the ancient Greeks believed fire had divine origins, see the story of Prometheus, and maintained perpetual fires in front of their temples.
Light: Fire has provided illumination through the ages. When people go camping they light a fire to cook, be warm, and to keep the darkness of night at bay; this is as close as many people will get to existing with fire like their ancient ancestors did.
Warmth: The air can get cold after the sun goes down, especially during winter. Fire has helped keep humanity warm through the ages.
Cooking: Before ancient humans learned how to use fire, all of their food had to be eaten raw.
Protection: Fire provided humanity with protection, through its light and heat, against the many animals that might have attacked or hunted them.
Creation: The ability to use fire as a tool has helped humanity invent and develop many things and techniques, ranging from smelting metals to providing enough thrust to blast ships into space.