/ History
/ U.S.
Slaves in the Family
Updated February 21, 2017 |
Factmonster Staff


Reckoning with Slavery
Edward Ball received the National Book Award for Slaves in the Family, an exploration of the shared experience of masters and slaves in his family's plantation past. But the book is only the first step towards accounting for the national tragedy of slavery — and providing the context for reconciliation. [interview]
---
PORT LOKO, SIERRA LEONE — A white American and four black representatives of the local ruling family silently thread their way through the streets of this small village, two hours inland from the capital city of Freetown. Followed distantly by a crowd of curious townspeople, the small procession finally reaches a dock on the shore of Port Loko Creek, lined by trees and bushes on the far bank and warehouses on the near.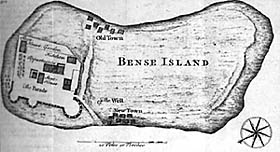 Bunce (formerly Bense) Island, near the mouth of Sierra Leone's Port Loko Creek, was a way station for captured Africans bound for slavery in the Americas.

Quiet now, this wharf long ago bustled with the activity of the slave trade. Africans captured in the interior had been shipped from here to Bunce Island, a fortified British outpost 25 miles downstream. There they would be chained together in outdoor pens until enough had been gathered to fill the hold of a cargo ship bound for America.

On the dock, the group exchanges a few words. From their ranks steps a thin man in a white suit, who crouches on the ground, then pours four splashes of dark rum onto the dock. After uttering a few remarks, he casts two halves of an egg-sized kola nut on the ground. More words follow —this time they take the tone of a prayer— and again the kola nut is thrown. Then the white man steps forward. It is his turn.

To the crowd gathered on the bank, their words are indecipherable, but their significance is clear: it is a rite of atonement.


A Shared History