/ History
/ World
Time Tangled Island: Mali Empire
Updated February 21, 2017 |
Factmonster Staff

Factropica Fast Facts and quizzes
by Beth Rowen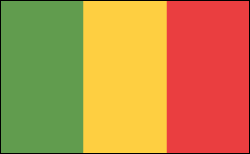 Related Links
Factropica Fast Facts
It was ruled by Muslims.
Sundiata, the Lion King (also called the Lion Prince), was the founder of the Mali Empire and ruled it for 25 years, from about 1235 to 1260.
The Mali Empire was at its strongest under Mansa (Emperor) Musa, Sundiata's grandson. He ruled from 1312-1337.
During Mansa Musa's reign, Timbuktu became a center of culture and learning. Muslim scholars from all over Africa traveled to Timbuktu to study.
While gold was the most valuable resource in the Mali Empire, salt was nearly as important to its economy.
Invaders from Morocco plundered Timbuktu in 1593.
The empire under Sundiata grew rich from the salt trade and from its vast gold mines.
Mansa Musa made a pilgrimage to Mecca in 1324, which is required of all Muslims who can afford it. On his pilgrimage, he gave away an enormous amount of gold, particularly in Cairo, Egypt, to illustrate the power and wealth of the Mali Empire. In fact, he gave away so much gold, that its value declined.
Timbuktu flourished because of its location near the Niger River, which was a center for the gold trade.