Hobo Convention
Updated February 21, 2017 |
Factmonster Staff

Hobo Convention
Tired of the sedentary life? Hitch a train to Iowa
---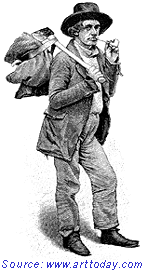 Where's a hobo to go?
For wandering (and retired)
hoboes
, the hot travel destination this summer is north central
Iowa
. A little town called Britt has hosted the National Hobo Convention every August since the event's inception in 1900. A mecca for wanderers, it is expected to draw thousands this year.
Despite the popular image of the hobo as a clown or a tramp, rail-riders have a real place in American history. The term "hobo" was probably derived from "hoe-boy," an appropriate description for the migrant farm workers around the turn of the century who often toted their own tools wherever they traveled.
Third boxcar, midnight train;
destination Bangor, Maine.
Old worn out suits and shoes,
I don't pay no Union dues...
I'm a man of means, by no means... king of the road.
from "King of the Road", by Roger Miller

---

 
Transient history
As the nation expanded westward after the
Civil War
, many veterans who had been left homeless picked up a transitory lifestyle. They would find work on farms or in construction, building dams, gas lines, or the railroad itself, and hop a train when the work ran out. Hoboism boomed again during the
Great Depression
as people hit the road in search of sustenance. The camps that hoboes set up while traveling during the time from the Civil War to the Great Depression were known as "jungles."
While there are believed to have been hundreds of thousands of hoboes at one time, the count is likely to be only in the hundreds today. Modern hoboes commonly turn to the railroad in search of an independent lifestyle rather than out of necessity. They are lured by the freedom that comes with short-term work commitments, the opportunity to travel the country, the promise of adventure, and the camaraderie shared by those on the road.
Notable hoboes
Supreme Court Justice
William O. Douglas
(1898-1980) was an extensive traveler and former hobo.
After attending East Illinois State Teacher's College and briefly playing professional football, folk singer and actor
Burl Ives
took to the rails, supporting himself by working odd jobs and playing the guitar for money.
The Convention
The National Hobo Convention will be attended by current hoboes, those who hoboed earlier in their lives, and many stationary folks who appreciate the personal freedom symbolized by the hobo lifestyle. Festivities include the coronation of the Hobo King and Queen, a craft and flea market, a gospel concert, the consumption of traditional mulligan stew, and, of course, lots of storytelling.