The Iditarod
Updated February 21, 2017 |
Factmonster Staff

The Iditarod
Alaska's marathon sled-dog race
---
History of Endurance and Stamina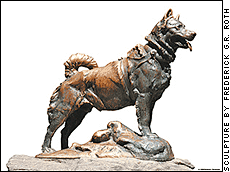 A statue in New York City's Central Park memorializes Balto, the lead dog from one of the "serum run" teams.
Modern Day Iditarod
The Start
The race begins on the first Saturday of March at 10 a.m. in downtown Achorage. Teams make a symbolic 20-mile run to Eagle River and are then brought to Wasilla. The timed race begins on Sunday. Teams leave the start in Wasilla at two-minute intervals. There is a mandatory 24-hour stop during the race where the tim edifference is made up. This allows the first musher who crosses the finish line to be the actual winner.
The Trail
The course follows a trail that is not "The course: Although the race's fame causes many people to think of the Iditarod® Trail when they think of traveling to Nome, the trail is actually impassable during the spring, summer, and fall. Moreover, its routing is far from a direct course, taking about 1,150 miles to go the 650 or so airline miles from Anchorage to Nome. In addition, the race committee has routed the race to pass through a number of towns and villages missed by the original trail, and has adopted a northern route for even-numbered years to include more villages along the Yukon. " Dogs At rest stops the focus rests on caring for the dogs. Each dog is checked over, especially th efeet. The dogs bootiea are removed and mushers check ofr cuts an ds ores. The dogs usually fall right to sleep. Mushers heat up food for the dogs, which consists of meat, dry dog food, fat, and vitamin suppliments. Mushers usually get about 40 minutes of sleep at rest stops Most of the sled dogs are Alaska Huskies. They are a mix that had been bred for strength speed and stamina only "Northern breeds" are allowe to race SOm es led dogs are of a mix that includes wolf. Most mushers raise their own dogs Som edogs do die in the race, regardless of the care taken of them by mushers and volunteer vets. The mushers, however, must bring an expired dog to the nearest checkpoint and must complete an extensive report. A necropsy is done at the earliest time to the dogs, They take finding out cause of death very seriously and a musher can be disqualified for poor treatment of dogs, is a dog dies from any sort of extreme like hypothermia or stress. Tired and injured dogs are carried in the mushers basket to the next checkpoint. Dogs can be left at checkpoints but they must be left with food, a collar and a leash The dogs are then brought to Anchorage 40-60 lbs Dog Food Mushers mix all of the dog food before the race and it is shipped to differnet checkpiunts along the trail. The sled dogs eat as much as 11,000 calories each day. Mushers have their own special mix of ingrediants. Food high in protein and fat, can include fish, beef, moose, caribou, commercial dog food, even honey!! And their food is always heated up. Some add eggs. They get cold snacks too. whitefish, canned dog food. Snacks have lots of water in them to help hydrate teh dogsThe cold and wind dehydrate the dogs, which is why the mushers heat up their food and water. They can drink up to a gallon a day All dogs go througyh a physical before the race Gee--right turn Haw--left turn Come Gee--180 dgree turn right Come Haw--180 dgree turn left Line out--tells the kead dog to pull the team out in a straight line Mush, hike both mean "move forward" Whoah!--stops the dogs Mushers can have as many as 16 dogs in team and they must have at least 12 and at least five at the finish No dogs can be added. Balto and togo Dogs wear booties when they race to protect their feet from ice and freezing temperatures. Mushers ahve to carry eight booties for each dog. Dogs wear a padded harness that is attached to a tug line that is attached to the gang line (the heave rope that runs between the dogs). DYK: The word musher came form the French word marche, which means to move forward "The dogs Different Native peoples bred dogs for their particular needs over the centuries. The Malemiut Inupiat people of the Seward Peninsula developed a particularly hardy breed of sled dog that today bears their name: the Malamute. The sled dog is the most powerful draft animal on earth They're usually about 75 pounds As a matter of interest, one dog has pulled more than half a ton in the canine equivalent of a tractor pull. As late as the 1960's Yup'ik Eskimos of Nelson Island moved much of their town, including entire houses, to a new site two dozen miles away with hundred-dog teams. They go 8-12 mph for hundreds of miles, can exceed 20 mph on short runs They eat moose, fish, caribou Breeds, a mix, Malamute, Siberian Husky wolves Dog teams were very common, hauling freight to various waystations in remote Alasa. This died off with the advent of airplane use." 35 volunteer vets Volunteers for the Iditarod They move 60 to 100 tons of food and supplies "People who fly supplies to various places. Checkers: The checker formally inventories the sled for the required gear, counts the dogs, and records the official times. The checker often has one or more assistants who help him keep track of the official arrival and departure time for each team, and see that each musher's pre-positioned food and supplies are readily available. Communication people: Operating at some locations in tents with generators and batteries, the communicators pass arrival and departure times from the checkpoint to Anchorage, relay logistics information along the trail, and handle personal messages. Logistics staffs are located at the major hubs (Anchorage, McGrath, Unalakleet, Galena, and Nome). These can include half a dozen people, ranging from a logistics coordinator to dog handlers. The race pilots also base out of these hubs, which provide fuel, communications, and a safe place to tie down airplanes in the face of rapidly changing weather. Judges Trailbreakers: volunteer trail breakers gets one of the more enviable jobs of the entire race: riding high-powered snowmachines from Anchorage to Nome at race expense. The trail breakers use special long-track snowmachines with thousand-pound sleds to pack the trail and to carry trail marking supplies (usually four-foot pieces of wooden lath with colored reflecting tape that the mushers can see at night with their miner's headlamps). While much of the actual trail construction work is done by local volunteers at least a week or two before the trail breakers arrive, on occasion they must build temporary bridges over open streams and clear brush and trees. Trail breakers try to stay no more than six hours or so ahead of the lead teams; any farther ahead and the wind could drift the trail shut behind them. On the other hand, they can't drop so far back that they hinder the mushers, although the weather sometimes gets so bad that the trail breakers and mushers alike must hole up and wait it out. A team of trail sweeps on similar machines bring up the rear of the race, picking up trash and dropped equipment and often shepherding the "red lantern" musher along the trail. Anchorage voluteers run prerace meals/festivities" Since 1973 the Ititarod has been run on this historic trail 36 teams in the first race The focus is on finishing and prticipating, not winning Red Lantern winner--last place. Iditarod--Shageluk for clear water or Ingalik for distant place Junior Iditarod--14 to 17 year olds ride for 60 miles Susan Butcher Rick Swenson Doug Swingley (41) Winners Get "Every finisher is entitled to a banquet and a chance at the podium to receive the coveted belt buckle and finisher's patch." Did you know? In 1978 Dick Macky won the Iditarod by a second in a photo finish, the closest race in Iditarod history An expensive undertaking. It can cost as much as 100,000 dollars to bring a dog team to the Iditarod. Dogs can cost thousands of dollars and the costs of supplies are high. In 2001, the prize money for teh first place finisher, Doug Swingley of MT, was 62,857. the total purse was 550,000 Big Game--pp13,17, 18 The official distance of the Iditarod is 1049 miles in honor of Alaska being the 49th state. The actual distance is estimated at 1,100, but the actual distance is hard to calcultae as the teams weave their way through many obstacles in the bush. Weather during the race can vary greatly 45 to 60 below winds can force the temp to 100 below 30-30-30 Rule at -30ºF, with winds of 30 MPH, human flesh will freeze solid in 30 seconds! 50-50-50 Rule If you fall in 50-degree water, and stay in the water for 50 minutes, your chances of survival are about 50 percent. Race lasts over two weeks, cover 1150 miles, From Anchorage, in south central Alaska, to Nome on the western Bering Sea coast, each team of 12 to 16 dogs and their musher cover over 1150 miles in 10 to 17 days. While the race officially commemorates the 1925 Serum Run to Nome, it is really a reconstruction of the freight route to Nome. The Iditarod Trail, now a National Historic Trail, had its beginnings as a mail and supply route from the coastal towns of Seward and Knik to the interior mining camps at Flat, Ophir, Ruby and beyond to the west coast communities of Unalakleet, Elim, Golovin, White Mountain and Nome. Mail and supplies went in. Gold came out. All via dog sled. In 1925, part of the Iditarod Trail became a life saving highway for epidemic-stricken Nome. Diphtheria threatened and serum had to be brought in; again by intrepid dog mushers and their faithful hard-driving dogs. Checkpoint # 1 Eagle River, After a restart in the Matanuska Valley at Wasilla, the mushers leave the land of highways and bustling activity and head out to the Yentna Station Roadhouse and Skwentna and then up! Through Finger Lake, Rainy Pass, over the Alaska Range and down the other side to the Kuskokwim River - Rohn Roadhouse, Nikolai, McGrath, Ophir, Cripple, Iditarod and on to the mighty Yukon - a river highway that takes the teams west through the arctic tundra. The race route is alternated every other year, one year going north through Cripple, Ruby and Galena, the next year south through Iditarod, Shageluk, Anvik. Finally, they're on the coast - Unalakleet, Shaktoolik, Koyuk, Elim, Golovin, White Mountain and into Nome where a hero's welcome is the custom for musher number 1 or 61! History: First year: 1973 short races were run on part of teh trail in 67 and 69 Dorothy G. Page: originator when she was working of projects for Alaska's centennial In the early 1920s people looking for gold traveled by boat to the coastal towns Seward and Knik and and then over land to the gold fields. That trail they travelled over land is called the Idarod Trail. (a national historic trail). later the trail becam a major route through Alaska. Supplies, people, mail etc. travelled to trail in the winter using dog sleds. With the rise in the use of planes later in the 20s, people stopped using dog sleds. Snowmobiles really caused the end of mushing in Alaska. Nine miles of trail was cleared so that a short Iditarod could be run in 67 (Alaska's centennial) The winning purse was 25,000. Teams from Alaska (and two from Massachusetts) participapted. Isaac Okleasik from Teller, AK, won. The race was run again in 69 (27 miles long). they thought that in '73 they could run the race to the ghost town of Iditarod but in 72 the U.S. Army reopened the trail fro winter exercises and in 73 race organizers decided to run the race 1000 miles to Nome. 22 mushers went that year. the race went all the way to Nome for the first time. Even so, the mushers still had to break much of their own trail and take care of their own supplies, and the winner of the first Iditarod, Dick Wilmarth, took almost three weeks to reach Nome. To 2001, 400 people have completed the race. Mushers come from all over teh world. Dorothy G. Page, the mother of teh Iditarod Ceremonial Start The race starts in downtown Anchorage (since 1983) The teams leave at 2 minute intervals stating at 10am. About 60 teams They mush from Achorage to Tudor Rd. to Glen highway to VFW Post 9785 in Eagle river (doesn't count towards total time) The next day mushers go to Wasilla Airport (Wasilla, AK) 40 miles from Anch. Then to Knik Lake, last checkpoint on the road system. After that they are off the road system over 20 checkpoints The workings: Info headquaters at Anchorage, Fairbanks, Nome, and Wasilla Planes deliver dog food and and supplies, moving vets and officials Trail breakers on snow mobiles cut and mark the trail Usually the winner crosses the line in 9-12 days Race is not commercialized Required supplies: -- an arctic parka, a heavy sleeping bag, an ax, snowshoes, musher food, dog food and boots for each dog's feet to protect against cutting ice and hard packed snow injuries. Famous people There are names which are automatically associated with the race-- Joe Redington, Sr., co-founder of the classic and affectionately know as "Father of the Iditarod." Rick Swenson from Two River, Alaska, the only five time winner, the only musher to have entered 20 Iditarod races and never finished out of the top ten. Dick Mackey from Nenana who beat Swenson by one second in 1978 to achieve the impossible photo finish after two weeks on the trail. Norman Vaughan who at the age of 88 has finished the race four times and led an expedition to Antarctica in the winter of 93-94. Four time winner, Susan Butcher, was the first woman to ever place in the top 10. And of course, Libby Riddles, the first woman to win the Iditarod in 1985. Red Lantern Award=Last Place The last great gold rush took place in 1909. In 1910 the population of Iditarod eclipsed Nome and Fairnabks with 10,000 inhabitants Many gold districts in Alaska could be served by steamboats in the summer plying the many rivers lacing the Alaska interior. Nome, on the coast, had regular ocean going steamship service. Nonetheless, there was virtually no way to travel to any of these places when freeze up stopped the river and ocean traffic from October to May. By 1910, the need for year-round mail and freight service to the miners in western Alaska led the Federal government to survey and construct a winter trail from Seward to Nome for use by dog sled teams. The serum run received worldwide press coverage and the mushers received special gold medals. A statue of Balto, the heroic lead dog, was erected a year later in New York's Central Park (it's still there). When considering the scope of the Iditarod and what's required to put it on, it's important to remember there are no roads or railroads west of the Anchorage-Fairbanks "rail belt." The only way to get to Nome in the winter is by airplane or snowmachine or dog sled. Because of this, the race logistics effort, including grooming the trail and handling all the myriad of details in Anchorage and all of the enroute towns and villages, is similar to a major military operation. Every musher must provide a specified amount of food and supplies for his or her dogs at 20-odd checkpoints along the route (usually a total of about a ton or so). Each musher must also carry a required amount of equipment in the sled at all times, much of which is survival gear because the mushers are completely on their own between checkpoints, some of which are more than 90 miles apart. Rules: Can only use what they have with them or have sent ahead Can't add or replace dogs Mushers get a meal in town they come to, but dogs muststay in a specific area Can't recieve outside assistance A musher is automatically disqualified if he or she does not physically have every dog that they left the previous checkpoint with. If a dog becomes tired, sick or injured, it must be carried to the nextcheckpoint, which will usually be manned by at least three veterinarians (also volunteers, from the International Sled Dog Veterinary Medicine Association). Every dog on every team is given a quick exam at every checkpoint. Vets can remove dogs from the race. If a dog is dropped from the race, she is taken care of by vets and then flown back to a hub Vets do care for dogs at chakpoints Must take three mandatory rest stops, one 24 hour stop wherever the musher wishes (but this must be reported to an official at a checkpiont, one 8 hour stop in Yukon and a second 8 hour stop in White Mountain Only traditional navigational techniques are allowed. Maps, magnetic compass, etc. No GPS or other electronci devices are allowed. Facts: Food and supplies sent ahead: For a field of 75 mushers, several hundred on-the-trail volunteers, and maybe 1,200 dogs, the total can be more than 200,000 pounds. First, all but about a half dozen checkpoints have regular mail freight service, thanks to the Postal Service's "bypass mail" program, which allows many larger items to be dropped directly at air freight company loading docks in Anchorage. For the race, these shipments include one or more 70-poun sacks of frozen dog food and bales of hay for every musher to every checkpoint with a zip code west of the Alaska Range. Bypass Mail: The present system, designed by Stevens three decades ago, is so named because it generally "bypasses" post offices. Four "mainline" carriers - Alaska Airlines, Northern Air Cargo, Lynden Air Cargo and Air Cargo Express - fly larger shipments or cargo-passenger combinations from Anchorage and Fairbanks to Bush hubs such as Bethel, Barrow and Nome. From there, shipments are divided, then distributed by smaller planes to villages. . Other races: While the Iditarod has become by far Alaska's best-known sporting event, there are a dozen other major races around the state every winter, such as the grueling thousand-mile Yukon Quest, the Kobuk 440, the Kusko 300, the Klondike 300, and the Copper Basin 300. John Beargrease in Minnesota, the Big Sky in Montana, the UP 200 in Michigan, and the Alpirod in Europe.