Indianapolis 500
Updated February 21, 2017 |
Factmonster Staff

82nd Indianapolis 500:
Information Please Picks Its Favorites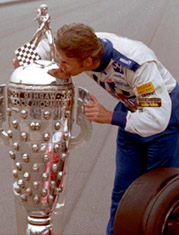 Two-time Indianapolis 500 winner Arie Luyendyk hopes to be reunited with his long-lost love–the Borg-Warner Trophy–after Sunday's race at America's oldest speedway.
Source: Wide World Photos
It's up to the new stars to establish themselves this Sunday. Below is a list of our (with starting position) to win the 82nd Indianapolis 500:
Tony Stewart (4th position):
He's the defending IRL champion and has already won the Indy 200 at Walt Disney World this year. Despite not winning the pole, he topped the speed charts four of the six practice days last week.
Bill Boat (1st position):
In the 81-year history of the race the pole winner has won 16 times. With four-time winner A.J. Foyt as his car owner, Boat could sail to victory on Sunday.
Arie Luyendyk (28th position):
The Dutch veteran had a disappointing qualifying weekend, but don't count him out. He's the only driver in the 1998 field to win at Indianapolis more than once (1990, 1997).
Jeff Ward (27th position):
This could be the breakthrough race for last year's Indy 500 Rookie of the Year. He finished third last year at The Brickyard, and he already has a second- and a fifth-place finish this season.
Scott Goodyear (10th position):
The most consistent driver in the IRL last year, he had five top-five finishes, including a second-place finish at Indianapolis.