Joe DiMaggio
Updated February 21, 2017 |
Factmonster Staff

Joe DiMaggio: A Look Back
---
Yankees fans, baseball fans and the rest of America mourned the loss of Joe DiMaggio Monday, who died at his home in Hollywood, Fla. at the age of 84. Here's a brief look at "Joltin' Joe's" amazing baseball career.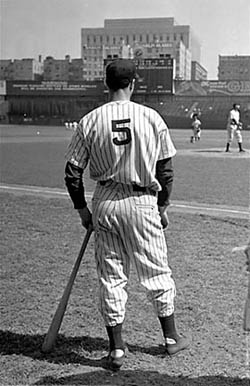 This picture of Joe DiMaggio was taken in 1941, five years after he left his job at an orange juice company to sign with the N.Y. Yankees for $75,000, and the same year in which #5 set what most think is baseball's unbreakable record.
Born Joseph Paul DiMaggio Jr. on Nov. 25, 1914 in Martinez, Calif., the second youngest of nine children.
Began playing minor league baseball as a shortstop in San Francisco at age 17.
In 1933, he hit safely in 61 straight games for the San Francisco Seals of the Pacific Coast League.
He spent his entire Major League Baseball career with the New York Yankees (1936-51), but missed three seasons (1943-45) during the peak of his career to serve in WWII.
As a rookie with the N.Y. Yankees in 1936, DiMaggio hit .323, slugged 29 home runs and tied for the league lead in triples (15) and outfield assists (22).
In 1941 he set an all-time major league record by getting a hit in 56 consecutive games.
During his 56-game hit streak, he batted .408 and had 91 hits in 223 at bats.
Won the American League Most Valuable Player Award in 1939, 1941 and 1947.
At Yankee Stadium over his career he hit .315 and hit a home run once every 22.7 at bats. On the road he hit .333 and hit one home run every 16.2 at bats.
He struck out just 369 times in 6,821 career at bats.
His lifetime batting average was .325. He won batting titles in 1939 and 1940.
His lifetime home run total was 361. He won home run titles in 1937 and 1948.
His lifetime runs-batted-in total was 1,537 (118 per-year average). He won RBI titles in 1941 and 1948.
Led the Yankees to 10 American League pennants and nine World Series championships.
Had a .336 lifetime batting average and had 30 RBI in 51 World Series games.
Was not elected to National Baseball Hall of Fame until his second year of eligibility, 1955.
Related Links: