Lemony Snicket's Playlist
Updated February 21, 2017 |
Factmonster Staff

What songs does Lemony Snicket have on his iPod?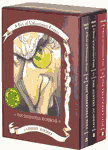 Lemony Snicket Quizzes
Apple's iTunes store has a special section where they ask celebrities to list songs on their iPods and make comments about why they like those songs. This is what Lemony Snicket had to say about his favorites.
The Boulevard of Broken Dreams by Marianne Faithfull
This first song is a sort of opening theme for this somewhat lachrymose playlist. If the entire playlist can be called "A Series of Unhappy Songs," then Ms. Faithfull gives us a map.
One Day Late by Sam Phillips
I normally do not have much enthusiasm for gospel music, but Ms. Phillips succinctly preaches a philosophy to which I adhere.
Calculation Theme by Metric
This band is from Canada, where misery has been raised to an art.
4th of July by Aimee Mann
Normally, summertime is thought of as a cheerful season. This song demonstrates the fallacy of this assumption.
Nobody's Fault but My Own by Beck
While Ms. Mann's song blames other people for her misery, Beck prefers to blame himself.
Ramon by Laurie Anderson
Ms. Anderson here tells a story I often tell myself on damp and chilly evenings.
Sonata No.9, Op.68 "Black Mass" by Vladimir Horowitz
Alexander Scriabin thought that he could bring about the end of the world if he composed the proper symphony. He died before this task could be completed, which is perhaps why the world has not yet ended.
String Quartet No. 7, in F Sharp Minor by Borodin String Quartet
Of all the oppressively melodramatic and melodramatically oppressive string quartets by Dmitri Shostakovich, #7 is perhaps the most melodramatic.
Ever Falls the Twilight by The Gothic Archies
The Gothic Archies remind us that even the most miserable of days, just like the most miserable of playlists, will eventually end.