The Maine
Updated February 21, 2017 |
Factmonster Staff

The Maine
The battleship that helped to precipitate the Spanish-American War
---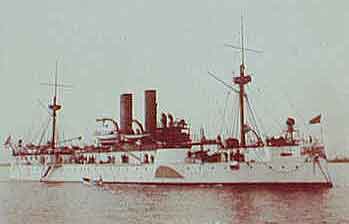 The Maine (Source/Lib. of Congress)
The Maine was a U.S. battleship destroyed (Feb. 15, 1898) in Havana harbor by an explosion that killed 260 men. The incident helped precipitate the
Spanish-American War
(April, 1898).
Commanded by Capt. Charles Sigsbee, the ship had been sent (Jan., 1898) to Cuba to protect American life and property from the revolutionary turmoil there. The sinking of the
Maine
produced an outcry against Spain in the United States, particularly by the more jingoistic newspapers, which held the Spanish government responsible for the disaster.
The cause of the explosion was never satisfactorily explained. A U.S. naval inquiry, headed by W. T. Sampson, reported on March 21 that the
Maine
had been sunk by a submarine mine but that responsibility could not be fixed on any person. A Spanish naval inquiry reported that the disaster was an accident resulting from an explosion in the forward magazine. Recent evidence, however, points to an accident.
Whatever the truth of the matter, "Remember the Maine" became a patriotic slogan during the Spanish-American War. The vessel was raised from the harbor, towed to sea, and sunk in 1912.