Major League Baseball 1999 | Preview
Updated February 21, 2017 |
Factmonster Staff

New York / New York?
For the first time in over a decade, a Mets-Yankees World Series isn't out of the question.
---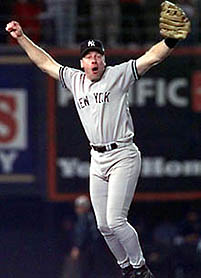 World Series MVP Scott Brosius is part of a well-balanced Yankee lineup that is poised to repeat last year's championship performance.
Play ball!
The 1999 major league baseball season gets underway on Sunday, but the questions have already begun.
Will the Yankees lose a game this year? Will the Twins win a game this year? What's next on Rupert Murdoch's shopping list? And how many balls will Mark McGwire put through Fenway's green monster at the All-Star Game's home run derby?
Check out Information Please's Baseball Preview to help you answer these questions, and more.