Major League Baseball 2001 | Preview
Updated February 21, 2017 |
Factmonster Staff

2001 Major League Baseball Preview
Will the Yankees win their fourth
consecutive World Series title in 2001?
---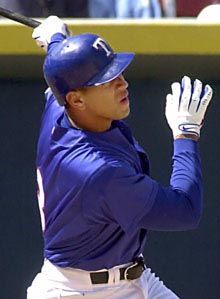 Texas Rangers' Alex Rodriguez watches the flight of a three-run home run he hit off Pittsburgh Pirates' Jason Ryan in the fourth inning Monday, March 5, 2001, in Port Charlotte, Fla. (source AP/Jim Mone)
At long last the 2001
baseball
season is here. Sunday, April 1, is opening day as 29 major league teams begin their usually unsuccessful bid to dethrone the world champion
New York Yankees
.
Check out Infoplease's annual
predictions
and what's in store for your favorite team in 2001.
American League PreviewNational League Preview
Infoplease Predictions
American League Champion
New York Yankees
National League Champion
St. Louis Cardinals
World Series Champion
New York Yankees
American League MVP
Alex Rodriguez, Texas
National League MVP
Andruw Jones, Atlanta
American League Cy Young
Pedro Martinez, Boston Red Sox
National League Cy Young
Randy Johnson, Arizona