Marion Jones: Fastest Woman on Earth
Updated February 21, 2017 |
Factmonster Staff

Marion Jones
The first woman to win five medals at one Olympics
---
The fastest woman on Earth, and arguably the best female athlete in the world, Marion Jones can outrun just about anyone on the
track
. But she wasn't able to escape the heartbreak and anger that marred her childhood.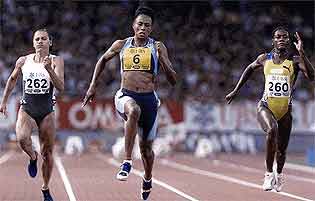 Marion Jones (center) (Source:AP)
Indeed, for years Jones pursued her absentee father, George Jones, who left the family when she was two years old. But he showed no interest in forming a bond with his daughter. Jones' mother, Marion, remarried Ira Toler when the young Marion was age five, finally giving the child a father figure. But tragedy struck seven years later when Toler died of a stroke.

Jones vented her grief and anger on the track. In 1991, at age 15, she ran the 200 meters in 22.87 seconds, breaking the national high school record. She faltered later that year at the TAC Nationals, placing fourth in the 200 and eighth in the 100. Coaches were awed by her potential, however, and came knocking. Her mother hired Elliott Mason as a private coach.
Banned From the Track?
Jones's track future was jeopardized when she failed to show up for a random drug test (the letter notifying her of the test never reached her), and she was banned from the sport for four years. Her mother hired Johnnie Cochran, who successfully fought for her reinstatement. But not soon enough. Jones had soured on track and had turned her attention to
basketball
.
| | | |
| --- | --- | --- |
| | Jones' track future was jeopardized when she failed to show up for a random drug test (the letter notifying her of the test never reached her), and she was banned from the sport for four years. | |
She led her high school team, once scoring 48 points in a single game, and earned a scholarship to the
University of North Carolina
. Her quick feet and scoring touch cemented her place as starting point guard as a freshman as she led the team to the national title. She red-shirted her junior year to train with her former track coach, Mason, for the
1996 Olympics
. But the basketball coach at UNC convinced her to join the team in Colorado for the World University Game trials. Jones broke her foot twice?once during the trials and again in rehab.
Love On the Sidelines
Sidelined, Jones hit a low point, evidenced by the teardrop tattoo she had emblazoned on her left shoulder. Her luck seemed to turn when she met C. J. Hunter, a world-champ shot putter who was working as a coach on the UNC track team. They formed an immediate bond and began dating, despite a university rule forbidding coach-athlete relationships. They thought they were keeping the affair under wraps, but head coach Dennis Craddock forced Hunter to make a choice: the team or Jones. He chose Jones, and they married in 1998.
The union raised eyebrows. Hunter, who has two children from a previous marriage, is seven years older than Jones and is known for being aloof and reclusive. Jones, on the other hand, is warm and approachable.

Hunter convinced Jones to give track another go, and she waived her last year of basketball eligibility and began running again. At the nationals in 1997, she won the 100 and the long jump.
2000 Olympics
Jones made history at the 2000 Olympics in Sydney, Australia. She landed three gold medals, winning the 100-meter dash, the 200-meter dash, and the 1,600-meter relay, and two bronze medals, in the long jump and the 400-meter relay. She became the first woman to win five medals at one Olympics.
Continuing Controversy
Hunter withdrew from Olympic competition a month before the 2000 games began, after knee surgery. Shortly afterward, it was revealed that he had failed four tests for the anabolic steroid nandrolone in the course of the summer. He denied that he had taken steroids, and his nutritionist, Victor Conte, blamed the results on an iron supplement. Conte was the founder of the Bay Area Laboratory Co-Operative (BALCO), which has since become the subject of a federal investigation for allegedly providing steroids to dozens of athletes.
Jones and Hunter separated in June 2001 and divorced not long afterward. She and sprinter Tim Montgomery, who broke the world record in the 100-meter dash in 2002, lived together for several years. Montgomery, who has never tested positive for drugs, has since been accused by the U.S. Anti-Doping Agency of using illegal steroids, apparently based on testimony given during the BALCO investigation. He is now facing the possibility of a lifetime ban. Jones recently married the sprinter Obadele Thompson from Barbados. She has two children, one with Thompson and the other with Tim Montgomery.
While Jones has never failed a drug test, and while her own athletic performance has steadily gotten worse from 1997 onward?the opposite of what one would expect of an athlete using performance-enhancing drugs?guilt-by-association has caused her to fall under suspicion of using steroids. She has steadily denied this. Perhaps the public attacks on her reputation have been taking their toll; she performed poorly in the 2004 Olympic trials, citing fatigue. While she qualified for the long jump, she withdrew from the 200-meter dash and didn't qualify for the 100-meter dash.
On October 5, 2007 Jones announced her retirement from track and field after pleading guilty to Federal charges for use of performance-enhancing drugs. She also confessed to making false statements during two different government drug investigations. Jones claims that her former coach, Trevor Graham, gave her a substance he told her was flaxseed oil in 2000, but a year later discovered was the designer steroid THG, known as "the clear." She will be sentenced on January 11, 2008 with a maximum sentence of five years. In the meantime, Jones was released from prison after yielding her United States and Belize passports to the U.S. government. In November 2007, the International Association of Athletics Federation decided that Jones must return all medals and money, including the $700,000 prize money, and forfeit all race results since September 1, 2000. Jones is officially suspended from competition until October 7, 2009.
Advertisement
Advertisement