The Marshall Tragedy: November 14, 1970
Updated February 21, 2017 |
Factmonster Staff

The Marshall Tragedy
The worst plane crash ever of an American sports team
---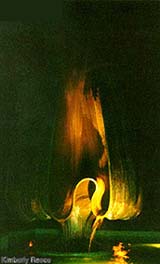 The fountain on the Marshall University campus commemorating the plane crash of 75 athletes and supporters in 1970.
NOVEMBER 14 MARKS
the 30-year anniversary of the worst
plane crash
ever involving an American sports team. On Nov. 14, 1970, The Thundering Herd of Marshall University, located in Huntington, W.V., had just lost a 17-14 football game to East Carolina.
Flying in Poor Conditions
Thirty-seven players, eight coaches, five crew members and 25 other supporters (fans or administrative personnel) boarded the team's chartered Southern Airways DC-9 for their 40-minute trip back to the Tri-State Airport in Huntington. The conditions were rough that night, windy, rainy and foggy, and later reports confirmed that none of the crew had ever flown into that airport before.
At approximately 7:40 p.m. as it approached the airport, the plane struck the treetops of the Appalachian hillside just west of Highway 75, flipped over and burst into flames. All 75 passengers were killed. The entire program was wiped out.
The rebuilding process was slow and painstaking. Many supporters wanted to cancel the football program altogether but as play-by-play announcer Keith Morehouse put it, "Seventy-five people would have died in vain."
Establishing A Memorial on Campus
Today, a memorial fountain on the Marshall campus commemorates the tragedy. Water flows from 75 pieces of steel shaped to look like a flower. And not only has the football team returned to where it was before the crash occurred, but it won more games than any other team in the 1990s. Marshall finished 10th in the country in 1999 and is alone atop the Mid-American Conference once again.