Mary Wollstonecraft
Updated February 21, 2017 |
Factmonster Staff

Biography of the 18th-century English feminist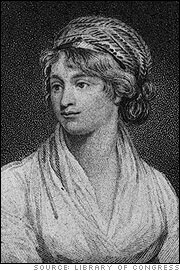 Mary Wollstonecraft, an 18th-century English feminist, believed that equal education among men and women would ensure the equal status of men and women in society.
Mary Wollstonecraft, 1759–97, English author and feminist, b. London. She was an early proponent of educational equality between men and women, expressing this radical opinion in Thoughts on the Education of Daughters (1786). Her most important book, A Vindication of the Rights of Women (1792), was the first great feminist document. She also wrote several novels.
In Paris, where she lived with an American, Gilbert Imlay, during much of the French Revolution, she was close to many of the Revolution's leading political figures. After the birth (1794) of a daughter, Fanny, Imlay deserted her, and in 1797 she married William Godwin. She died within days of giving birth to another daughter, Mary Wollstonecraft Shelley, who married Percy Bysshe Shelley.
The Columbia Electronic Encyclopedia, 6th ed. Copyright © 2005, Columbia University Press. All rights reserved.