The Masters 1999
Updated February 21, 2017 |
Factmonster Staff

A Preview of the 1999 Masters Tournament
---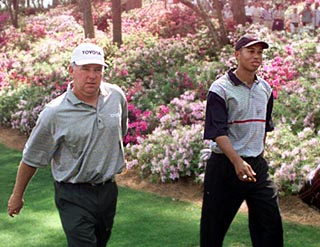 Mark O'Meara and Tiger Woods, the last two golfers to win the green jacket, survey Augusta during a practice round for the 1999 Masters.
Two years ago, the golf world took notice as Tiger Woods exploded onto the stage with his stunning domination of the field at the Masters. Last year Mark O'Meara won his first major in thrilling fashion at Augusta when he drained a 20-foot putt on the 18th hole to beat Fred Couples and David Duval.
In 1999, Messrs. Couples and Duval will be back, along with O'Meara, Woods, and a dozen or so others who will challenge for the famous green jacket awarded to the tournament champion for the last 50 years.
What's new this year?
Unlike the other three majors, the Masters is played at the same course every year. But the 18 holes fans have become so familiar with have seen some changes.
The rough surrounding all the fairways has been grown longer this year to provide a bit more of a challenge. And because the original course may be too short for today's advanced equipment, four holes have undergone renovation since last year:
Hole 2 was lengthened about 25 yards, bringing a bunker into play.
Hole 15 had large mounds on the right edge of the fairway. Originally intended to lengthen the hole, they have more recently worked to shorten it: today's longer hitters have been hitting their back-side downslope instead of the front-side upslope. In place of the mounds are 20 or so pine trees that narrow the fairway and demand more accuracy off the tee.
Hole 11 has gotten a little bit harder, too. The green has been raised a few feet, and two bunkers have been replaced with one.
Hole 17 has had its tee been moved back 25 yards, bringing the famous (and tall) "Eisenhower" tree back into play on the left side of the fairway. Shorter hitters will have to watch out for its hanging branches.
All the changes have combined to make the course just a bit tougher this year. Organizers may have gotten a little sensitive when Woods dominated the course in 1997.
The Contenders
As always, the field is strong. There's the guy who holds the tournament record (Woods), the defending champ (O'Meara) and the number one player and hottest golfer in the world (Duval).
You don't get any hotter than Duval is right now. He has won four of the eight tournaments on the PGA Tour this year, and has already broken the Tour single-season money record. Still, he has yet to win a major tournament. It should be interesting to see how he handles being a favorite at the Masters.
O'Meara, who won two Majors in 1998 and the PGA Tour player of the year, gets surprisingly little respect. Some seem to think that it's tough to get lucky at Augusta two years in a row.
Only one person, Nick Faldo, has won back-to-back Masters in the last 30 years. Although O'Meara putts the fast greens at Augusta extremely well, his length off the tee can't compete with the big hitters and will hurt him even more with this year's course changes.
Woods has been consistent but unspectacular this year. He shares (with Davis Love III) the PGA Tour lead with six top-10 finishes, and is a proven winner on this course. If he can regain his "A" game and get used to his new caddie, this could be Tiger's chance to remind everyone just how darn good he really is.
Fred Couples must always be mentioned when the Masters is discussed. He has never missed a cut at Augusta and has eight top-10 finishes in 14 tries, including his 1992 championship. He is long enough off the tee to eagle the par 5s.
The cool-as-a-cucumber Ernie Els has proven he can play under pressure, but his putter will have to come up big this week if he hopes to win his first Masters. The tall South African has shown he can win majors as a two-time U.S. Open champ, but Augusta is another neighborhood.
Davis Love has been playing consistently good golf this year and is tied with Woods for the Tour lead in top 10s. He has played very well at Augusta in years past and is a big driver, so he has the stuff to win it. The biggest question mark will be his putting. If he starts three-putting early on it could be a long week for him.
This Masters starts Thursday, April 8. The final round will be televised on CBS Sunday afternoon.