/ Milestones in Transportation
Milestones in Transportation
Updated February 21, 2017 |
Factmonster Staff

On (and Under) the Water
Most people think Robert Fulton invented the steamboat. But in fact, John Fitch, an American, built and operated a steamboat on the Delaware River in 1787, but his passenger business failed. Fulton's steamboat, the North River, later known as the Clermont after its port town, was financially successful in 1807 and became famous.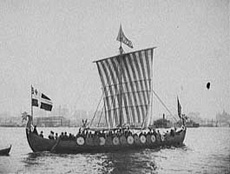 Library of Congress
6000

B.C.

Reed boats are made in Egypt.
4500

Sailing ships are made in Mesopotamia.
3500

Oar-powered ships sail Eastern Mediterranean seas.
A.D.

1200

The rudder is invented in China.
1620

The submarine is invented in the Netherlands.
1787

The steamboat is invented in America.
1807

The passenger steamboat is invented in the United States.
1891

The modern submarine is invented in the United States.
1911

The hydroplane is invented in the United States.
1912

The Titanic is built in England.
1955

The hovercraft is built in England.
1973

Clayton Jacobsen introduces the Jet-ski and Kawasaki begins production of the vehicle for public sale.
1994

The "Chunnel" opens, linking France and England with rail service and a tunnel for passenger cars.
2006

To meet increased demand for cruise ships, Freedom of the Seas is introduced and becomes the largest cruise liner ever. It has 18 decks and can carry 4,000 passengers.
2009

Expected delivery of Royal Caribbean's "Project Genesis," which will be 43% larger than any other cruise ship, weighing 220,000 tons and carrying 5,400 passengers.
Information from The International Herald Tribune
For more inventions, see Inventions & Discoveries.
Fact Monster/Information Please® Database, © 2007 Pearson Education, Inc. All rights reserved.