The Million Mom March
Updated February 21, 2017 |
Factmonster Staff

Mothers Mobilize
The "Million Mom March" on Mothers' Day, May 14th 2000
---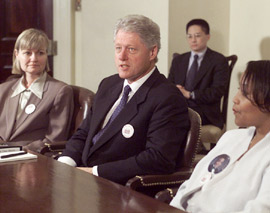 President Clinton, beside Million Mom March founder Donna Dees Thomases (left), speaks with organizers at the White House on May 8, 2000. The march is expected to draw 100,000 people to the National Mall this Mother's Day. (Source/AP)
This article was posted on May 9, 2000.
THE "MILLION MOM MARCH,"
scheduled to take place on Mother's Day 2000, will be a massive protest by mothers against the handgun violence that kills an average of 13 children each day. The march was the brainchild of Donna Dees-Thomases, a New Jersey mother sickened by the recent spate of
shooting sprees
targeting children and angered at the powerful
gun lobby's hold over Congress
.
For Anyone Who Has Ever Had a Mother
But Dees-Thomases was no ordinary mother (how many are?). The mother of two and stepmother of three works part time as a publicist for "Late Show With David Letterman," and her media savoir-faire allowed her to organize what is expected to be the largest pro-gun control march ever to take place in the country. The Million Mom March will take place in about sixty cities and on the National Mall in Washington, D.C., and is far more inclusive than its title suggests—the march will voice the protest of "mothers, grandmothers, foster mothers, and anyone who has ever had a mother."
 


The Million Mom March advocates:

• Extensive background checks for any purchaser of guns intended only for killing or injuring humans

• Licensing handgun owners and registering all handguns

• Safety locks for all handguns

• Limiting purchases to one handgun per month

• No-nonsense enforcement of gun laws

• Enlisting help from corporate America



 


The NRA Gets a "Time Out"
The Million Mom March movement features humor only a mom could pull off: announced on Labor Day, the march was scheduled to take place nine months later. The movement's Website features a "time out" corner, which has thus far been filled with the ornery likes of Dan Quayle and Tom DeLay. "Sadly, getting some lawmakers to act reasonably is about as difficult as getting our kids to clean their rooms," states a Million Mom press release. "If we've told them once, we've told them a hundred times. But still the majority of Congress doesn't pass laws to keep guns out of the wrong hands—even in the wake of Columbine."
Soccer Moms Take Aim
The theme of the Million Mom March is "sensible gun laws, safe kids." The march advocates putting "Congress on notice that a common-sense gun policy—specifically licensing and registration—is the will of the people." The issue of gun control in the United States has become one of the central issues of the 2000 election. Marchers want to send a clear message to all candidates and to an ambivalent Congress that if they continue to hang out with the gun lobby crowd they will have to answer to a bunch of angry mothers.
Not This Sister
Counter marches will be held the same day by the Second Amendment Sisters, a group sponsoring the
Armed Informed Mothers March
.
"We just have to make sure that people don't think the million moms speak for all women," said a Second Amendment spokesperson. Expected to be a much smaller march, the Armed Informed Mothers March organizers contend that "with U.S. gun owners numbering near 80 million, we should be able to beat back the Million Mom attack." The Second Amendment sisters advocate self defense, safety education, and better parenting as the remedy for violence against children.
The Personal Is Political
To ensure that the Million Mom March remains true to its grass roots and its "fierce maternal protective feelings," no politicians have been invited to speak—unless they have firsthand knowledge of the anguish of gun violence. In an age where political differences are minute, cynicism and apathy are rampant, and the political arena has been drained of passion, the mothers of the Million Mom March have tapped into an issue that these mothers know in their gut is worth fighting for.