Mount Saint Helens
Updated February 21, 2017 |
Factmonster Staff

May 18, 1980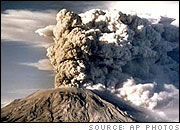 Mount St. Helens in Washington spews smoke, soot and ash into the sky in April, 1980. Its eruption that May devestated an area of about 150 square miles.
Related Links
External Links
Dormant since 1857, Mount St. Helens erupted on May 18, 1980 in one of the largest volcanic explosions in North American history.
After a fissure appeared along the north side of the mountain, a great portion of the rock facing fell, followed by a blast of stone, ash, and poison gas from the mountain. Landslides ensued, covering local forestation and carrying debris nearly 20 mi (32 km). The disaster took 57 lives, wiped out substantial populations of elk, deer, bear, and coyote, and destroyed miles of vegetation.
A second eruption occurred a week later, on May 25, and then again on April 11, 1981. The high summit of Mt. St. Helens was replaced by a horseshoe-shaped crater 2,460 ft (750 m) deep; the volcano lost about 3,770 ft (1,150 m) of elevation from the old peak to the new crater floor.