NBA Season Preview 1999
Updated February 21, 2017 |
Factmonster Staff

Short Season, Tall Task
Can the NBA maintain its edge without his Airness?
---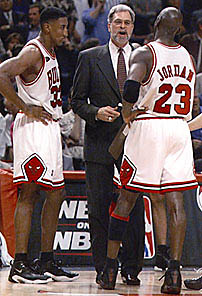 NBA also-rans are licking their chops now that the invincible trio of Phil Jackson, Michael Jordan and Scottie Pippen has finally parted ways.

The NBA had been swirling about in a snow-globe of uncertainty for some time. Would Michael retire? Would the lockout ever end? Would Dennis Rodman and Carmen Electra stay together? Now that the answer to all three questions is apparently yes (for now, anyway), one thing is absolutely certain: this will be an NBA season like none before. As much as many bitter fans would like to deny it, the first season of the post-Jordan era will be exciting. While all that boring NBA talk ?everybody is rich, what's the problem?? has left a sour taste in the mouths of many people, the 1999 NBA season should bring lots of surprises.

It may take a while for the players to get back into playing shape and the early-season games will probably exhibit a level of play that is short of what we can expect come playoff time. Once the players get going, though, look for an exciting ride.

Because of the shortened 50-game schedule, each regular season game will take on increased importance. A lesser team that gets on a hot streak might make the playoffs this year, unlike during the grind of a normal 82-game season. Additionally, because games will be played 4-5 nights a week, teams will have to go deeper into their benches, and starters should be somewhat fresher come playoff time.

Disgruntled fans everywhere are likely to get over their grudges and return to the arenas by week three of the season. Fans everywhere, that is, except for those of the suddenly inept Chicago Bulls.


Next