NCAA Basketball Tournament 2000
Updated February 21, 2017 |
Factmonster Staff

NCAA Tournament Preview 2000
A closer look at this year's Madness
---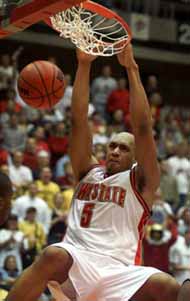 Marcus Fizer, the Big 12 Player of the Year, looks to guide the surprising Iowa State Cyclones deep into the tournament. (Source/AP)
THE TEAMS
have been announced and the NCAA tournament bid committee can return to their lives now that the eyes of the sports world are no longer watching them closer than the
Sports Illustrated
swimsuit issue.
Like every year at this time a few teams left out have a gripe. This year it seems the committee was good to the mid-major conferences like the Missouri Valley and West Coast Conference on Selection Sunday. Good teams from power conferences like Virginia and Vanderbilt were both left off the dance card despite having impressive wins on their schedule.
Former No. 1 Cincinnati was headed for a top seed but was relegated to a two-seed once consensus player of the year Kenyon Martin was sidelined with a broken leg, and they lost their opening game in the Conference USA Tournament.
Another top team with a potentially big injury is Arizona. The Wildcats somehow kept one of the four one-seeds despite losing 7-1 center Loren Woods for what will likely be the rest of the season. It must have been thanks to their late-season win over fellow one-seed Stanford. The Cardinal are No. 1 in the South region and tournament-mainstay Duke is the top seed in the East. In roughly three weeks the 64 teams will be whittled down to the final four who will play for the title in Indianapolis.
PLAYERS TO WATCH