NFL Football Preview - NFC Central
Updated February 21, 2017 |
Factmonster Staff


NFC Central
---
What's not to like about this division? It sent four teams to the playoffs last year and features some of the game's best players.

Brett Favre is what the Green Bay Packers are all about. He won an unprecedented third straight league MVP trophy in 1997, and he shows no signs of slowing down. The defense will not lose a step and will remain tough enough to win at least 12 games, despite a difficult schedule.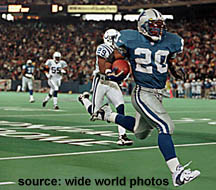 Expect more of the same from Barry Sanders in 1998. He'll be leaving behind the competition.

The Minnesota Vikings are a lock for the playoffs. Running back Robert Smith needs to stay healthy for the offense to move, but when it does ? look out. The defense is one of the most aggressive and underrated units in the league.

They will have a new home field, but the Tampa Bay Buccaneers still have the same old staggering offense. Mike Alstott, who is part John Riggins, and part sequoia, should provide a spark, and the defense should be even better than a year ago. But a schedule that includes out-of-conference games against Pittsburgh and Jacksonville might be overwhelming.

The Detroit Lions have Barry Sanders, but still no consistent quarterback to hand him the ball. Scott Mitchell is being pressured by 2nd round draft pick Charlie Batch so good things could happen. The Lions' defensive backfield is big, quick and young. Fear them.

The Chicago Bears will feature 1st round draft pick Curtis Enis at running back, whose first goal must be to win over the fans after a lengthy preseason holdout. It could be tough for Enis to get reps in 1998, however, because the Bears' defense doesn't look like it will hold an opponent off the field long enough for the offense to play.




NFC West