Olympic Interview: Peter Westbrook
Updated February 21, 2017 |
Factmonster Staff

Interview: Peter Westbrook
A 20-year Olympian reflects on changes to the Games
---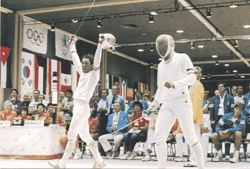 Olympic medallist Peter Westbrook (left) celebrates a winning match. (Source:Peter Westbrook)
Who better to ask about
Olympic
changes than fencer Peter Westbrook? Westbrook qualified for every U.S. Olympic
fencing team
between 1976-96.
A 13-time national champion and Olympic bronze medallist in 1984, Westbrook experienced both the pre- and post-Cold War Olympic Games, plus the influx of professional athletes and corporate money that has turned the Olympics into a global spectacle.
Though Westbrook won't be competing in Sydney, his legacy continues through three students from his fencing school, The Peter Westbrook Foundation.
 


In 1976, Westbrook was the Olympic team's youngest fencer. It was quite an accomplishment for a multi-ethnic kid raised in a single-parent household in the projects of Newark, N.J.


 
 
Westbrook was 22 years old when he made his first appearance at the Olympic Games in Montreal in 1976. He was the team's youngest fencer. It was quite an accomplishment for a multi-ethnic kid (his mother was Japanese, his father African-American) raised in a single-parent household in the projects of Newark, N.J.
Westbrook could easily have gone through life without ever seeing a fencing match. Instead, his mom convinced him to try the sport and he spent the next 30 years rewriting fencing history. "I was scared as hell," he said of his first trip to the Games. "I didn't think I belonged there. I didn't think I could live up to all those things that Olympians are all about. I knew I was good but I didn't classify myself with those guys. I was in total awe."
Unfortunately the United States' boycott of the 1980 games meant Westbrook would have to wait eight years for another Olympic competition.
Peter Westbrook File
1984 Olympic Games bronze medallist in men's sabre
13-time U.S. national men's sabre champion
6-time member of the U.S. Olympic team
3-time gold medallist in the Pan American Games
Founder and executive director of the Peter Westbrook Foundation
Co-author of 1996 Autobiography Harnessing Anger: The Way of an American Fencer
In 1984, he finally got his chance and was rewarded with a bronze medal in the men's sabre competition. It was the first fencing medal won by an American since 1960. No American has won one since. Already a national champion, Westbrook said winning at the Olympics was unique.
"When you win national titles, you're recognized by people in your sport," he explained. "At the Olympics the recognition is not just from your sport…[but] from your country and the world." Westbrook's favorite Olympics were in cities outside of North America. In 1988 he made his first trip to Seoul, Korea, and in 1992, to Barcelona, Spain. Four years later, he was the oldest U.S. Olympic fencing team member at his final games in Atlanta.
How the Olympics Have Changed
Westbrook said the sport of fencing and the Olympics have gone through a significant change due to more professional athletes being allowed to compete in the games. In Sydney, professional fencers make up 95% of those competing. This makes it near-impossible for amateurs to qualify.
Westbrook remembered when corporate attitudes were different toward the Olympic Games. All that changed in 1984 when Peter Ueberroth was in charge of organizing the world's first privately-funded Games. "Now everyone wants to be involved," he said. "Most major corporations are involved…everybody is using the five rings to be part of it all. Before there would be companies that wouldn't let (athletes) leave (their) jobs, now nobody would consider not sending athletes to the games."
More Athletes From Other Countries
Another significant change at the Olympics can been seen in the athletes from Eastern European countries and the former Soviet Union.
"With the break-up of the U.S.S.R. there is much less tension in the air (at the Games)," he said. "You can clearly see the difference in all those (former Soviet Union) countries. They don't have big brother watching anymore and now their attitude is different...they're actually relating to other athletes."
The Next Generation of Fencing
Amazingly, the first two students to walk through the doors of The Peter Westbrook Foundation in New York City in 1991—Keeth Smart and his sister, Erin Smart—will be the foundation's first two Olympians. Keeth, 21, who qualified for the individual sabre competition, and Erin, 20, who is an alternate on the women's foil team, will be joined by Akhnaten Spencer-El, 21, who will compete in the individual sabre competition. Of the nine American fencing athletes to qualify for Sydney, one-third studied at Westbrook's foundation.
"People are always asking me if it's going to be hard, not going this year," he said. "I've got my kids going, I can be part of the glory and recognition, without the stress. I'll let them deal with all the excitement and heartache that goes along with it."