Private Planes: Learjet 23
Updated February 21, 2017 |
Factmonster Staff


by David Noland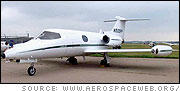 Learjet 23 Specs
Length: 43 ft, 3 in.
Wingspan: 35 ft, 8 in.
Empty weight: 6550 lbs
Max takeoff weight: 12,500 lbs
Max speed: 535 mph
Max range: 1,650 mi
Related Links
Brainchild of a tinkerer
The name "Learjet" conjures up visions of wealthy big shots flying high and fast in sinful luxury. Developed by eccentric genius Bill Lear, the original Learjet Model 23 was among the first corporate/private jets, and certainly the best-known. It is still unsurpassed in terms of head-snapping performance and snarky style.
The Eccentric Bill Lear
Lear never got beyond the eighth grade, but he developed the first car radio in the 1920s, and grew rich during WW II making electronic aircraft equipment. After inventing the eight-track stereo in the 1950s, he "retired" to Switzerland.
But the restless Lear couldn't stop tinkering. His Learjet design was based on the wings and basic structure of a short-lived Swiss fighter plane, the P-16. He moved the project back to the U.S., and the first Lear 23 flew in Wichita, Ks. in 1963. The stubby wings, rakish windshield and sleek tiptanks made it instantly recognizable.
The first Learjet prototype crashed during testing, a harbinger of things to come. But the plane passed its final FAA certification in 1964. The first Learjet was sold to a company in Cincinnati, the Chemical and Industrial Corp.
Using essentially the same power plants as the Air Force F-5 supersonic fighter, the Lear 23 had astonishing performance. With two pilots and a full load of five passengers, it could climb to 40,000 feet in just over seven minutes. In one early publicity flight, a Learjet made a round trip between New York and Los Angeles in 11 hrs 35 min, including refueling stops.
High Accident Rate
But there was a downside to the Lear 23's fighterlike performance: a fighterlike accident record. Lear's creation was a demanding aircraft to fly, unforgiving of pilot errors.
Within three years, 23 Learjets had crashed, four of them with fatal results. In a fleet of only 104 aircraft, that was a shocking statistic. By 2005 more than half of the Lear 23 fleet had suffered accidents, 13 of them fatal. One out of eight Lear 23s ever built has ended up killing somebody.
Lear quickly recognized the problem, and in 1966 introduced a new model, the 24, with improved low-speed handling qualities. The 25, 28, and 29 Models followed. Their accident rates improved, but were still higher than other corporate jets'. Production of the 20 series came to an end in 1982.
The Learjet name lives on in the 30, 50, and 60 series, which are larger, more efficient, and safer. But they lack the original's eye-popping performance. The rich guys in back may prefer the roomier later versions, but for a pilot who's up to the task, there's still nothing like a Lear 23.