Roller Retro-tainment
Today's RollerJam
---
The league comprises six teams, representing six U.S. states: California, Florida, Illinois, New York, Nevada, and Texas. However, only four of the teams are active. The team from Illinois will make its first appearance on February 26, while the Texas team will probably not appear on RollerJam until next season, according to league officials.

Each team has one squad of men and one of women. The rules of RollerJam seem to coast behind the entertainment value, but essentially each team gets a point every time a team member circles the track during each of six 60-second "Jams." In the way of these speedy point-getters, or Jammers, are Blockers whose job is to prevent the Jammers from getting around the track by throwing elbows and knees in their way. Men compete against men, women against women. Co-ed Jams don't exist… yet.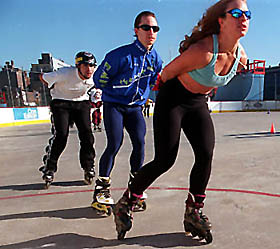 In-line skaters try out for RollerJam, a faster, more athletic version of Roller Derby.
The WSL team rosters are made up of players with more athletic backgrounds than their racing predecessors, but there is no shortage of interesting personalities. Most are either former military personnel, dancers, speed-skaters, figure skaters, or hockey players. Once on the RollerJam skating oval, each player becomes a character, and like wrestling, the personalities are going to get more and more bizarre every year. There are, however, still some links to the past.
California Quakes men's team captain Sean Atkinson is a third-generation skater. His grandparents, Bud Atkinson, Sr. and Bobbie Johnstone, were with the Roller Derby from the beginning. Their son, Bud Jr., met his wife Dru Scott while they both were members of the Derby. Sean has been around skating his whole life, and RollerJam is his chance to continue this unique family tradition.


Teams