Rudolph Giuliani: Crusader Against Crime
Updated February 21, 2017 |
Factmonster Staff

Rudolph Giuliani
New York's mayor announces cancer diagnosis
---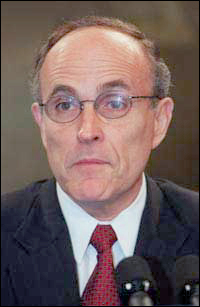 Giuliani announces that he has prostate cancer at a news conference on Thursday, April 27, 2000. (AP Photo)
NEW YORK CITY MAYOR
Rudolph Giuliani announced on Thursday that he's been diagnosed with
prostate cancer
. He did not say how the illness would affect his putative run for the U.S.
Senate
.
"I don't think it's fair to answer questions about the Senate race right now," Giuliani, 55, said. He admitted that treatment would require him to shuffle his schedule. He said he and his doctors would decide over the next few weeks what course of treatment to pursue.
Options for Treatment
According to the American Cancer Society, treatment options include a radical prostatectomy, a surgical treatment in which the entire prostate is removed, along with some surrounding tissue; transurethral resection of the prostate, in which part of the gland is removed—this process is used as pain relief for patients with advanced cancer; radiation therapy, which kills the cancerous cells; cryosurgery, in which the cancerous cells are frozen; hormone therapy, which is typically used if the cancer has metastasized or has returned after a previous treatment; and chemotherapy, which is used when hormone therapy fails.
"It is a treatable form of prostate cancer, it was diagnosed at an early stage," the mayor said at a Gracie Mansion press conference.
What is Prostate Cancer?
Prostate cancer is the second most common form of cancer in men. (Skin cancer is the most common.) It accounts for 11 percent of cancer-related deaths in men. If detected and treated early, prostate cancer is treatable. The prognosis is not nearly as optimistic if the cancer spreads. The walnut-sized gland, which produces sperm, is located at the front of the rectum and under the bladder.
American Cancer Society figures show that eighty-nine percent of the men diagnosed with prostate cancer survive more than five years, and 63 percent live for 10 or more years. The Society says that about 180,400 men will be diagnosed with prostate cancer in 2000. Giuliani's father died of prostate cancer in 1981 at age 73.
First Lady Hillary Rodham Clinton, the Democratic candidate in the Senate race, has not yet commented.
Crusader Against Crime
Giuliani served as Associate Deputy Attorney General in the Justice Department from 1975 to 1977, and as Associate Attorney General from 1981 to 1983. As U.S. Attorney for New York's Southern District, a position he held from 1983 to 1989, Giuliani successfully prosecuted several high-profile Mafia leaders and Wall Street miscreants. He made his debut in elective politics in 1993, when he narrowly defeated David Dinkins in the New York City mayoral race. He was reelected in 1997, campaigning largely on his clampdown on crime.
Though he has not officially thrown his hat into the ring, Giuliani, a Republican, has for all intents and purposes been running a bitter campaign for the U.S. Senate against Rodham Clinton. He came under fire for quickly rallying behind police in the March shooting death of Patrick Dorismond, an unarmed, off-duty security guard, who was shot by an undercover New York City detective.