The Sinking of the Sultana
Updated February 21, 2017 |
Factmonster Staff

April 27: Anniversary of America's worst maritime disaster
by Borgna Brunner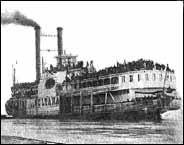 Related Links
The explosion of the steamship Sultana on April 27, 1865, was the worst shipwreck in American history. Not only did more than 1,500 die, but most of the dead were Union POWs finally headed home at the end of the war. Having survived the Civil War and inhuman conditions at Andersonville and other notorious POW camps, it was a cruel irony that the soldiers died just as their ordeal was about to end.
To transport POWs home at the end of the war, the government offered shipping companies a fee for every soldier they carried north on the Mississippi. The Sultana, a 1,700-ton steamship with a capacity to carry only a few hundred people, crowded almost 2,500 soldiers aboard, and headed north for Cairo, Ill. A little north of Memphis, its boiler exploded. There were no life boats or life jackets.
Another irony of the disaster is how little attention it received, despite its being America's worst maritime disaster. Occurring in April 1865—the same month Lee surrendered at Appomattox Courthouse (April 9), President Lincoln was assassinated (April 14), the manhunt for John Wilkes Booth ended (April 26), and Jefferson Davis and his cabinet were still at large—it was obscured in the welter of other events. Yet even today, few American history books mention the disaster, despite the fact that the Sultana remains unrivalled among shipping catastrophes and adds a particularly wretched chapter to our Civil War.