/ Sports
/ Sports
Coming Out While Still in the Game
Updated February 21, 2017 |
Factmonster Staff

More professional athletes are coming out and not just after they retire.
by Jennie Wood and Katherine Schauer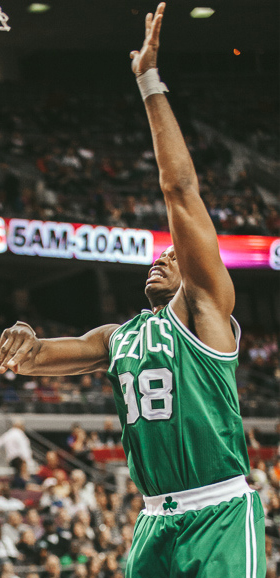 Jason Collins in 2012
Photo Credit: Mariselise
Related Links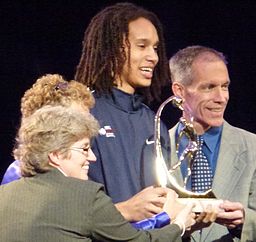 Brittney Griner Accepts Wade Trophy in 2012
Photo Credit: Sphilbrick
In recent years, more and more retired professional athletes have come out publicly about their sexuality. For example, NBA center John Amaechi wrote about his sexuality after his retirement in a 2007 memoir Man in the Middle. However, a new trend began in 2013. While the Supreme Court debated the issue of same-sex marriage, professional athletes started coming out about their sexuality. These were athletes not just at the end of their careers, but at the beginning and even in their prime. Soccer player Robbie Rogers, WNBA number one draft pick Brittney Griner and current NBA center Jason Collins all came out publicly about their sexuality in 2013. The following year, Michael Sam came out before he entered the NFL draft. There were some negative comments from detractors, but, for the most part, these players were met with overwhelming praise and support.
Football Was My Escape
On February 15, 2013, American soccer player Robbie Rogers came out as gay in a post on his blog after being released from Leeds United. In the post, he stated, "Secrets can cause so much internal damage. People love to preach about honesty, how honesty is so plain and simple. Try explaining to your loved ones after 25 years you are gay. I always thought I could hide this secret. Football was my escape, my purpose, my identity. Football hid my secret, gave me more joy than I could have ever imagined." In the same post, he also shared the news that he was retiring from professional soccer. With the announcement, he became the first professional soccer player based in Great Britain to come out since Justin Fashanu in 1990.
Rogers' coming out was met with praise. His blog post was re-blogged and re-tweeted all over social media. Three months later, when NBA player Jason Collins came out he gave Rogers credit for having "blazed a trail." Retirement did not last long for Rogers. A day after Collins came out, Rogers began training with Major League Soccer's Los Angeles Galaxy.
Hopefully the Younger Generation Will Feel the Same
Pro-athletes coming out of the closet has been an inspiration to many college and high school athletes. On the day Baylor University's Brittney Griner came out, April 17, 2013—just before beginning her professional career—she was one of the best female basketball players in the world and the number one pick in this year's WBNA draft. Griner chose to come out in an interview with Sports Illustrated. About her decision to come out, she told Sports Illustrated, "I've always been open about who I am and my sexuality. So, it wasn't hard at all. If I can show that I'm out and I'm fine and everything's OK, then hopefully the younger generation will feel the same way."
Griner has been a role model on and off the basketball court. In 2012, she was named Most Outstanding Player of the Final Four and AP Player of the Year. She's a three-time All-American and was the first NCAA player to score 2,000 points and make 500 blocks. Bullied herself when she was growing up, Griner has been working to bring more awareness to the issue, especially within the LGBT community.
On April 9, 2015, UMass Amherst's Derrick Gordon became the first Division 1 college basketball player in the NCAA to come out of the closet. He told USA Today, "I didn't feel like hiding anymore. It was killing me, eating me alive. No one should have to go through that. I want to help kids who don't know how to handle (being gay). I want to show you can be an athlete and be gay."
A month later Bree Horrocks, a women's college basketball player from Purdue University came out of the closet. She stated in an interview that being out and comfortable with who she is has made her a better player. "Me being comfortable with who I am off the court has really helped me be comfortable on the court as a basketball player, too," Horrocks said. "I'm able to be myself in all aspects of my life now."
I'm a 34-year-old NBA Center. I'm Black and I'm Gay
In late April 2013, NBA player Jason Collins became the first active professional male athlete to come out. He chose to do so by writing an essay in an issue of Sports Illustrated. In the essay, he stated, simply, "I'm a 34-year-old NBA center. I'm black and I'm gay." He also wrote in the essay about how he still wanted his personal life to remain private and that he wore the number 98 on his jersey in memory of Matthew Shepard, the 1998 gay hate crime victim.
Collins was showered with praise after his announcement. Mega NBA star Kobe Bryant went public with his support as did NBA commissioner David Stern, President Barack Obama, First Lady Michelle Obama, tennis legend and out lesbian Martina Navratilova, former president Bill Clinton and his daughter, Chelsea, who attended Stanford University with Collins. Despite the overwhelming praise, there was some backlash, most notably from Chris Broussard, an ESPN basketball analyst. Broussard said he did not believe Collins could "live an openly homosexual lifestyle" while also being a Christian. Collins, a Christian, responded in a statement, "This is all about tolerance and acceptance and America is the best country in the word because we're all entitled to our opinions and beliefs, but we don't have to agree. And obviously I don't agree with his statement."
Olympians and Beyond
Olympic athletes have also started coming out. Gus Kenworthy, an Olympic freeskier who won silver in Sochi 2014 came out October 22, 2015. He tweeted, "I am gay." After coming out, EPSN Magazine published a profile on him and his struggles. In a video interview he said, "Hiding everything away is so painful. You're constantly lying and constantly feeling like you're being deceitful. I'm just at that point where I'm ready to open up and let everyone see me for me and I hope everyone accepts it."
Across the pond, Keegan Hirst came out in August 2015, becoming the first openly gay rugby league player (Gareth Thomas, a union rugby player, came out in 2011) in Britain, came out in 2011) from Britain. His coming out received praise from many stars, including Harry Potter star Emma Watson. After Keegan came out she sent out multiple tweets, finishing with: "moral courage is the ability to act rightly in the face of popular opposition, shame, scandal or discouragement. @KeeganHirst #gotboth."
Coming Out Before the Draft
Michael Sam made headlines in Feb. 2014, when he came out during an interview with ESPN. An All-American defensive lineman for the Missouri Tigers and the SEC Co-Defensive Player for 2013, Sam said in the interview that "I am an openly, proud gay man." Sam also said that his Missouri teammates and coaches have known he was gay since August 2013.
When he was drafted by the St. Louis Rams in the seventh round of the 2014 NFL draft, Michael Sam became the first active openly gay player in the National Football League. However, after training season the Rams cut him. He then spent time on the Dallas Cowboy's practice team, but then was also waived. He switched over to the Canadian Football League and starting playing for the Alouettes. Sam then quit the CFL and is now a free agent.
With athletes from such wide-ranging sports, ages, and backgrounds, it seems only a matter of time before athletes in other major league sports also come forward about their sexuality. However, every league is different and some are more accepting than others. Major League Baseball and the National Hockey League have yet to see an active player come out. Still, the more players who come forward in any league, at any point in their career, the easier it will be for players in other leagues to follow.