/ Sports
/ Olympics
Memorable Olympic Moments: Kerri Strug
Updated February 21, 2017 |
Factmonster Staff

Gymnast Kerri Strug gives it her all at Atlanta
by Gerry Brown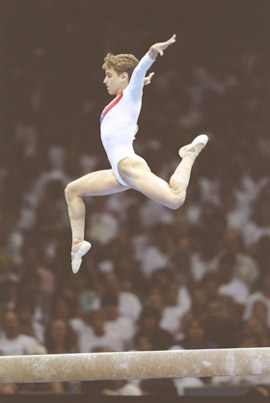 Kerri Strug on balance beam at the Atlanta Olympics. (Source: Allsport)
Related Links
"Kerri listen to me. You can do it," said USA coach Bela Karolyi as Kerri Strug readied for her second and final vault during the team competition at the 1996 Atlanta Games.
Heading into their final event, the vault, the U.S. had a lead over Russia and it looked liked the U.S. had its first gold in the team combined exercises all sewn up. That is until teammate Dominique Moceanu fell down on both her vaults and Strug's first attempt also ended in a fall. Serious doubt crept into the thoughts of 32,000 spectators and Karolyi let her know that she needed to land her second and final vault in order to seal it. The only problem, aside from the avalanche of pressure on the 18-year-old, was that Strug had felt a pop in her ankle on her first vault and could barely walk, let alone sprint down the runway and fling herself up and over the horse to land with great purpose onto only one good leg.
Somehow Strug gritted her teeth, thinking that the team's gold medals all depended on this final vault (in actuality they didn't, but no one knew that at the time), and got the job done with a solid landing before collapsing in pain onto her hands and knees.
The bear-like Karolyi scooped her up in his arms and carried her to the award ceremony to collect her gold medal and the rousing ovation from the packed house.
Strug, with two torn ligaments in her ankle from her courageous effort, was left unable to compete in any individual events.