State Fairs
Updated February 21, 2017 |
Factmonster Staff

Fair Play
by Alicia Potter
---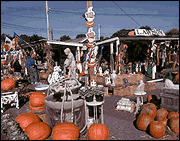 In State Fair, the 1933 movie musical, the mother aims to win the bake-off; the father, the hog competition; and as for the teens, they're looking for love. Sixty-five years later, and nearly two centuries since the first expositions started, the state fair is still the ultimate in eclectic, homespun entertainment.
Where else could you see both Eddie Money and the world's largest barnyard for a mere $5 cover?
We've rounded up some of the main attractions at major fairs —there are more than 3,200 in the United States and Canada— happening across the country this month.
Topsfield Fair
Topsfield, Massachusetts
Established: 1818
Sally O'Maley, promotions director for the Topsfield Fair, apologizes for returning a phone call late. Her excuse, however, is a good one. She was out supervising the relocation of New England's largest pumpkin — 920 orange pounds of pulp, rind, seeds, and stem. Indeed, the country's longest consecutive-running fair still retains its agricultural roots, sponsoring contests for all sorts of crops, which are housed in —yup— "The Vegetable Building."
Of course, the great pumpkin wasn't the only cause for pomp. The fair also featured the Mrs. Essex County contest, a competition among the local married women to determine who best personifies the virtues of domesticity and community service. The winner? Thirty-seven-year-old Cathy Carroll, a mother of two, who whooped her rivals, no, not with her pumpkin-pie recipe but with her killer chocolate trifle.
Mississippi State Fair
Jackson, Mississippi
Established: 1849
Gotta love the Biscuit Booth. At this year's fair, this depot of dough served 50,000 biscuits drizzled in maple syrup, to make it one of the exposition's most sought-out sites. Indeed, Rebecca Ainsworth, promotions director, reports the record crowd —650,000 people in two weeks— worked up its appetite watching the fair's original coliseum acts. Among them was the Paul Bunyan Lumberjacks who, dressed in the requisite flannel and overalls, timbered up the crowd with log-rolling, ax-throwing, and tree-carving.
Less energetic but no less popular was the petting zoo's 120-year-old, 400-pound tortoise. And while no one topped the turtle's age on senior citizens' day, 7,000 folks came out to enjoy performances by former members of the Lawrence Welk Show.
Georgia State Fair
Macon, Georgia
Established: 1851
It's safe to say visitors to the Georgia State Fair drove home very carefully. As part of this year's focus on community awareness, the exposition showcased a competition to determine the fastest local firehouse. Participants raced each other in such categories as getting dressed, rolling a hose — and extricating dummies from two totaled cars.
The fair also sponsored a Habitat for Humanity project in which 500 fairgoers erected a house for charity. Times have changed, says general manager Allen Freeman, and, accordingly, so has the Peachtree State's exposition. "The average fair visitor doesn't come to see livestock anymore," he says in a honey-smooth drawl. "Wholesome family activities is where it's at."
Tulsa State Fair
Tulsa, Oklahoma
Established: 1906
Every state fair boasts a petting zoo, complete with baby bison, sheep, goats, and llamas. However, it's not every fair that can say it roped some dinosaurs! In celebration of its theme, "The Year of the Kid," the Tulsa State Fair erected an educational exhibit featuring life-size latex dinosaurs —including a tyrannosaurus rex— that came to life through a combination of air compression and computer wizardry.
Lorry Roberts, assistant marketing director for the exposition, admits, "It actually got kind of scary."
Indeed, for those who defined blast from the past a little differently, the fair also featured a night with that banjo-pickin' Hee Haw favorite Roy Clark.
South Texas State Fair
Beaumont, Texas
Established: 1907
The only place (we hope!) to corral both Spam and arm-wrestling. This fair hosted a Spam recipe contest, and while Chris Colletti, executive vice president of the fair, couldn't recall the winning dish, we've concluded that some things are truly best left to the imagination.
Besides the ode to the world's most mysterious meat, this celebration also was home to the state's arm-wrestling championships — a four-hour event. When asked if he would join the wrist-fight, Colletti chuckled, "Absolutely not!" After all, such a challenge is pretty dangerous, almost as dangerous as... sampling Spam recipes.