Thabo Mbeki: South Africa's President
Updated February 21, 2017 |
Factmonster Staff

Thabo Mbeki
In honor of South Africa's Freedom Day, a profile of the President
---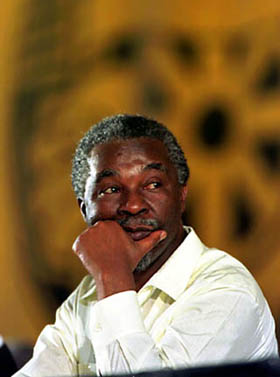 Thabo Mbeki succeeded Nelson Mandela as president of South Africa in 1999. Mbeki faces serious challenges, including rampant crime and widespread poverty.
From Radical-in-Exile to the Presidency
"The people have given clear orders that we move forward faster, to build a non-racial and non-sexist society."

– Thabo Mbeki

---
Unlike Mandela and his generation of ANC leaders who were imprisoned, Mbeki is part of the generation of ANC leaders who spent the last decades of the apartheid era in exile. He began his tenure with the ANC Youth League at age 14. When the ANC was banned in 1962, Mbeki went into exile and continued his education. He received military training in Moscow and served as an ANC representative in several African countries before taking a place at the ANC headquarters in exile in Lusaka, Zambia.
Post-Apartheid, Post-Mandela