Thanksgiving | Plymouth Controversy
Updated February 21, 2017 |
Factmonster Staff

A Not-So-Traditional Thanksgiving
Part 1: The Original Culture War
---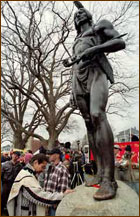 During the National Day of Mourning rally in Plymouth, Massachusetts, Andres Araica prayed at a statue of Massasoit, chief of the Wampanoag tribe.
Heroic Founding or Original Sin?
---



At issue are two competing views of America and American history: a heroic account of the birth of freedom and democracy, and a brutal tale of conflict, racism, and the decimation of native peoples.




---

 
The Original Culture War
Forefathers of the Nation?