U.S. Open 2000
Updated February 21, 2017 |
Factmonster Staff

---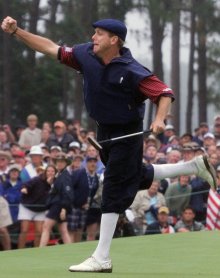 Payne Stewart celebrates after sinking his 15-foot putt on the final hole to win the 1999 U.S. Open.
The U.S. Open (held Thursday, June 15 through Sunday, June 18) turns 100 years old this year. The tournament, one of golf's four majors (The Masters, British Open and PGA Championship are the others), actually began in 1895 in Newport, R.I., but took two years off for World War I and four off for World War II, making its 100th year the year 2000.
It is only appropriate that its centennial edition will be held at the Pebble Beach (Calif.) Golf Links, one of the world's most prestigious and beautiful courses. The Open has been played at Pebble Beach three other times - in 1972 (won by Jack Nicklaus), 1982 (won by Tom Watson), and 1992 (won by Tom Kite).
Honoring a Fallen Comrade
Aside from the usual fanfare that comes with golf's majors, this tournament will be a special one in the eyes of every player as they honor the memory of the late Payne Stewart. Stewart, the winner of last year's U.S. Open in Pinehurst, N.C., was killed along with five other people on Oct. 25, 1999 when his Learjet crashed in South Dakota. It is the first time a champion won't be present to defend his title since 1949 when Ben Hogan was unable to defend due to a car crash. "The fact that he had won the U.S. Open in such dramatic fashion last year and that he's not going to be there to defend his title is…well, it will be pretty hard not to think about Payne Stewart," said Ryder Cup teammate Hal Sutton.
Major Malfunction
Phil Mickelson, who has 16 tour wins but no majors, was so close to winning his first last year, but had it stolen out from under him by Stewart on the final three holes. Three clutch putts - a 25-footer on 16, a five-footer on 17, and then the now legendary 15-footer on the final hole, the longest 72nd-hole putt ever to clinch a U.S. Open - sealed the final victory of Stewart's career.
Mickelson, ranked No. 5 in the world, still yearns for his first major championship and, as usual, should be in the running this year. Also in the hunt is fellow American David Duval, who is also looking for his first major win. The duo has combined for 27 career tour wins without one. In 1997, Duval shot a 10-under 62 at Pebble Beach, tying him for the course record.
International Flavor
Only three foreigners have won the U.S. Open in its 100-year history - Tony Jackson (England, 1970), David Graham (Australia, 1981), and Ernie Els (South Africa (1994, 97). This year we could have the fourth.
Darren Clarke (Northern Ireland), Lee Westwood (England), and "fan-favorite" Colin Montgomerie (Scotland) are all contenders. And Masters winner Vijay Singh (Fiji), as if he wasn't impressive enough already, just had successful laser surgery two weeks ago to improve his vision.
Japan's Shigeki Maruyama won't be considered a favorite to win, but his round of 58 in qualifying last week has made him a crowd favorite.
The Favorite
Aw, who are we kidding? This tournament, much like every tournament, is Tiger Woods' to lose. If anyone can overcome Pebble Beach's narrow fairways, fast greens, thick rough (which at 4 ½ inches has become even thicker this year), and strong winds coming off the Pacific Ocean, it's him. Despite the fact that he's just 24, the California native has played this course so many times before, he almost has a home-course advantage.
He is also so far and away the top player in the world that he gains a couple of strokes on intimidation alone. He's won 11 of the last 20 tournaments he's entered and has finished out of the top five just twice in his last 25. In the world rankings, where players are ranked according to their tournament finishes and strength of field in those tournaments, the 2nd ranked player (Duval - 11.09 points) and tenth-ranked player (Westwood - 8.24 points) are separated by just 2.85 points. Tiger is in first with 24.59 points. He's good. He tees off at 11:40 (ET) on Thursday morning and 4:00 pm (ET) on Friday with Jim Furyk and Jesper Parnevik.
---