/ U.S.
Timeline: Cartoons
Updated March 20, 2017 |
Factmonster Staff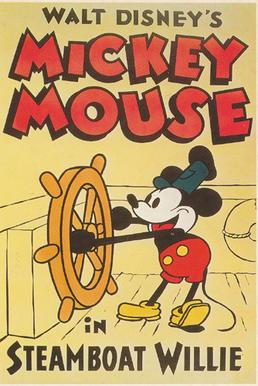 Steamboat Willie Poster, Mickey Mouse's film debut
Timeline: Cartoons
Here are some key moments and events in the history and evolution of cartoons
1877

 

Cartoons are used to comment and report on the Civil War. Cartoonists are particularly drawn to using Abraham Lincoln as their subject.

1900

 

Newspaper cartoonists J. Stuart Blackton and Winsor McCay begin making animated short films by filming a series of drawings and projecting them.

 

The Enchanted Drawing is released by Blackton. It is the first silent film to include animated sequences. Because of this, Blackton is considered the father of American animation.

1902

Dec. 7

Thomas Nast dies. He is thought of as the "Father of the American Cartoon" and considered the greatest political cartoonist of the late 19th century. Although he did not create Uncle Sam or the Democratic Donkey as he is often credited, he did popularize those symbols through his work.

1906

April 6

J. Stuart Blackton releases Humorous Phases of Funny Faces, the first animated cartoon in the United States.

1922

May 10

Newspaper editorial cartoonist Rollin Kirby wins the first Pulitzer Prize awarded for cartooning.

1923

 

Walt Disney begins making short animated cartoons based on children's stories.

1927

 

Dr. Seuss begins selling cartoons to magazines.

1928

Nov. 18

Mickey Mouse is introduced. He is featured in the first ever animated sound cartoon, the short film Steamboat Willie. It is also the debut of his girlfriend Minnie.

1929

Aug. 22

The Skeleton Dance, the first entry in the Silly Symphonies series is released. The famous short animated cartoon is directed by Walt Disney and animated by artist Ub Iwerks.

1934

June 9

Donald Duck makes his debut in Walt Disney's Silly Symphonies cartoon, The Wise Little Hen.

1937

Nov. 5

The Silly Symphonies cartoon The Old Mill is released in the U.S. by RKO Radio Pictures. It is the first film to use Disney's multiplane camera, a special camera that moves artwork past the camera at different speeds and at various distances from each other, creating a 3D effect.

Dec. 21

Walt Disney Productions premieres Snow White and the Seven Dwarfs. It is the first feature length cel animated film. Cel animation is the technique where every frame of the film is drawn by hand. It is also the first animated feature to receive a widespread release. Walt Disney is given an honorary Oscar for the film.

Dec. 21

American writer and cartoonist Theodor Geisel publishes his first children's book, And to Think I Saw It on Mulberry Street. He publishes the book under his pen name, Dr. Seuss.

1940

Feb. 23

Pinocchio is released in theaters. It is the second animated feature film released by Walt Disney. Pinocchio is innovative in its effects animation, showing realistic movements of machines, vehicles, water, smoke, and shadows.

Nov. 13

Disney's Fantasia is released in 13 cities to mixed reviews. Initially, the film is a financial disappointment due to the movie's production costs, including the sound equipment needed for its showing. Also, World War II prevented showings and profits in Europe. However, due to several successful reissues, as of 2012, the film is the 22nd highest-grossing film of all time after profits are adjusted for inflation. The American Film Institute ranks it as the 59th greatest American film of the last 100 years.

1941

Oct. 23

Dumbo premieres in New York City. The film is one of Disney's shortest animated features and was made to recoup Fantasia's losses.

1942

Aug. 13

One of the most beloved animated films of all time, Disney's Bambi, is released. The film is nominated for three Academy Awards and is part of the Library of Congress' National Film Registry.

1950

Nov. 2

The animated short film Gerald McBoing-Boing is released. Adapted from a story by Dr. Seuss, the film is about a little boy who speaks with sound effects, not words. An Oscar winner of Best Animated Short, the comic is also in the United Stations National Film Registry.

1957

July 7

Tom and Jerry creators William Hanna and Joseph Barbera form Hanna-Barbera Productions along with film director George Sidney.

1958

 

The cartoon character Yogi Bear appears on The Huckleberry Hound Show for the first time as a supporting character. However, he soon becomes more popular than Huckleberry Hound and becomes Hanna-Barbera's first breakout character. Three years later, he's given his own show.

1960

Sept. 30

The Flintstones begins airing as an animated television sitcom in prime-time. Produced by Hanna-Barbera, the series is the most commercially successful animated series for the next thirty years. TV Guide ranks the series as the second Greatest TV Cartoon of All Time behind The Simpsons.

1969

 

Scooby-Doo appeared for the first time as a Saturday-morning cartoon series. The series is a success for Hanna-Barbera Productions. Spin-offs, follow-ups, feature films, and television specials will follow. In 2013, TV Guide ranks Scooby-Doo as the fifth greatest television cartoon of all time.

1988

June 22

Who Framed Roger Rabbit is released in theaters by Touchstone Pictures, a division of Disney. The film's positive reviews, box office success, and mix of live-action with cartoons revives an interest in American animation and paves the way for the Disney Renaissance.

1989

Nov. 17

Disney releases The Little Mermaid to positive reviews and box office success. The film is credited for starting the Disney Renaissance era, bringing new life to the animated feature films division.

Dec. 17

The Simpsons, a parody of American life set in the fictional town of Springfield, debuts on Fox. The show is created by Matt Groening and will go on to win several Emmy awards and a Peabody Award. Time magazine calls it the 20th century's best TV series. As of 2015, the series is still airing.

1993

March 8

Beavis and Butt-head, a popular animated sitcom based on a short film by Mike Judge, premieres on MTV.

1994

June 15

The Lion King, is released in theaters. It becomes the highest-grossing film of 1994. The movie wins two Academy Awards and becomes the highest-grossing hand-drawn animated film in history. The film spawns a sequel, prequel, and a hit Broadway adaptation.

1995

Nov. 22

The first feature-length computer-animated film, Toy Story, is released. Produced by Pixar Animation Studios, the film is released and distributed by Walt Disney Pictures. The film receives three Academy Award nominations. Many critics consider it one of the best animated films ever. Two sequels are made, both also massively successful.

1997

Aug. 13

The adult animated sitcom South Park debuts on Comedy Central. Created by Trey Parker and Matt Stone, the series is set in a small Colorado town and becomes famous for crude, dark, satirical humor.

1999

June 30

South Park: Bigger, Longer & Uncut is released in movie theaters. Based on the popular television series, the film is a critical and commercial success.

2001

May 18

Dreamworks Pictures releases Shrek, an animated film based on William Steig's picture book. The film pokes fun at other movies, especially Disney films and uses popular music in its soundtrack, including a Leonard Cohen song. The film is a major success critically and commercially.

2002

March 24

At the 74th Academy Awards an Oscar is given in the Best Animated Feature category for the first time. Shrek wins.

2013

Nov. 19

Disney's Frozen premieres in Hollywood at the El Capitan Theater. Many critics consider the film to be the best Disney has made in years. The movie is a massive success with audiences, making nearly 1.3 billion dollars worldwide. It becomes the highest-grossing animated film of all time. The movie spawns Disney theme park attractions, books, video games, and more. A Broadway musical is also planned.

2015

March 12

A feature-length sequel to Frozen is announced.

March 13

Walt Disney releases Cinderella. The film includes the animated short Frozen Fever, a mini-sequel to Frozen. Directed by Oscar nominee Kenneth Branagh and featuring Oscar winner Cate Blanchett as the Wicked Stepmother, Cinderella opens to positive reviews and huge box office.