/ U.S.
/ Race
Obama's Executive Action Delays Deporatation of 5 Million Immigrants
Updated February 21, 2017 |
Factmonster Staff

Policy does not offer a path to citizenship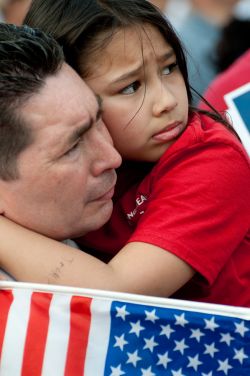 Related Links
In a prime-time, televised speech on Nov. 20, 2014, President Barack Obama announced he was taking executive action to delay the deportation of some 5 million illegal immigrants. He challenged those in Congress who oppose the policy to pass new immigration legislation.
"To those members of Congress who question my authority to make our immigration system work better, or question the wisdom of me acting where Congress has failed, I have one answer: Pass a bill."
Obama appealed to the conscience of Americans, citing a moral obligation to keep families in tact and to offer an opportunity for millions to "come out of the shadows and get right with the law." He cited Scripture in justifying the move.
"We shall not oppress a stranger for we know the heart of a stranger - we were strangers once, too," he said.
Under the new policy about 5 million people who are parents of U.S. citizens or legal residents will receive deportation deferrals and authorization to work legally if they have been in the U.S. for more than five years and pass background checks. The deferrals are renewable. Obama's action also amended the 2012 Deferred Action for Childhood Arrivals program, which allows people under age 31 who were brought to the U.S. as children to apply for two-year deportation deferrals and work permits. Obama's policy change lifted the age ceiling and added a year to the deferral period. However, neither program offers the immigrants a path to citizenship. In addition, Obama is ending the Secure Communities program, which called on local law enforcement officials to hold immigrants who have been arrested, often for minor offenses, until they have been questioned by federal immigration agents.
Republicans Highly Critical of Executive Action, Despite Party Precedent
Republicans were quick to pounce on Obama's executive action, calling it "executive amnesty," and vowed to thwart the policy, either by challenging it in court or withholding funding for implementation of it. In December 2014, 26 states took legal action, filing a lawsuit in federal court in Brownsville, Texas, claiming Obama exceeded his authority, failed to follow proper protocol before changing federal rules and that the order would place a financial burden on states, which would have to increase funding for education, law enforcement, and health care if they absorbed new immigrants.
"By ignoring the will of the American people, President Obama has cemented his legacy of lawlessness and squandered what little credibility he had left," said House Speaker John Boehner. "His 'my way or the highway' approach makes it harder to build the trust with the American people that is necessary to get things done on behalf of the country. Republicans are left with the serious responsibility of upholding our oath of office."
Obama's Republican opponents of the executive action failed to mention that former presidents Ronald Reagan and George H.W. Bush each enacted similar executive orders. In 1987, Reagan extended an amnesty bill signed the previous year to allow about 100,000 immigrants who had left the country and then returned with fake documents to remain, and he also permitted the children of those immigrants to stay in the country. Bush gave work permits to some 1.5 million people who were married to or children of immigrants who were in the process of becoming legal permanent residents.