/ U.S.
America's Most Literate Cities, 2014
Updated February 21, 2017 |
Factmonster Staff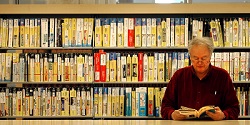 Minneapolis library
Source: AP Photo/Craig Lassig
This study attempts to capture one critical index of our nation's social health—the literacy of its major cities (population of 250,000 and above). The study ranks cities based on research data for six key indicators of their citizens' use of literacy: booksellers, educational attainment, Internet resources, library resources, newspaper circulation, and periodical publishing resources. The information is compared against population rates in each city to develop a per capita profile of the city's literacy. Because of the number and complexity of the variables, the variety of ways in which the resource data are gathered and presented, and the variability in the timeliness of the data, the ranking is necessarily an interpretation.
| | |
| --- | --- |
| 1. | Minneapolis, Minn. |
| 2. | Washington, D.C. |
| 3. | Seattle, Wash. |
| 4. | St. Paul, MN. |
| 5. | Atlanta, Ga. |
| 6. | Pittsburgh, Pa. |
| 7. | Denver, Colo. |
| 8. | San Francisco, Calif. |
| 9 | Boston, Mass. |
| 10 | St. Louis, Mo. |