Valentine's Day History of Candy Hearts
Updated February 21, 2017 |
Factmonster Staff

Ten new ways to convey those immortal words
by Holly Hartman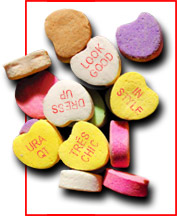 Related Links
For more than a century, the makers of NECCO Sweethearts Conversation Hearts have come up with some of the sweetest ways of saying "I love you." Every Valentine's Day the company presents new messages on the tiny colored hearts that have been a holiday tradition since the Civil War.
For 2010, NECCO introduced new flavors and sayings. The new flavors include strawberry, green apple, lemon, grape, orange, and blue raspberry. For the first time in its 145-year history, the American public was invited to participate in an online survey to decide which phrases of love would appear on conversation hearts in 2010. The winners include: "Tweet Me," "Text Me," "You Rock," "Soul Mate," "Love Bug," and "Me + You." The following classic expressions reappear on the candies: "Puppy Love," "Sweet Love," "Sweet Pea," and "Love Me."
Recent additions to the Sweetheart lineup include new boxes: Dazzled Tarts and Sweethearts en Español.
Sweet Talk for the Times
Some favorites among the more than one hundred Sweetheart sayings have been in circulation since the hearts were first factory-made in 1902. These classics include "Kiss Me," "Sweet Talk," and "Be Mine." Sometimes a motto is discontinued for a time and then makes a reappearance; others are gone for good. Sayings considered outdated by NECCO include the funky "Dig Me" and the cheerful "You Are Gay."
NECCO says that creating mottoes can be tricky. The new sayings can't be "offensive, distasteful, or too wordy," according to Walter Marshall, retired NECCO vice president.
Space is also an issue. Conversation hearts come in two sizes—the standard 1/2 inch and the larger 3/4 inch model. The small hearts generally can fit no more than two words with four letters each, while the large hearts may accommodate two words with six letters each. Fortunately, creative phrasing can help fit longer sentiments onto the tiny hearts, as in the case of "EZ 2 LOVE."
Say It Again, Sweetheart
If you miss some of the old sayings, or would like to see some of your own, you can have them custom-made. The catch is that you'll have to buy a full production run, or about 1.7 million candy hearts. But you'll have plenty of time to eat them—they should stay fresh for at least five years.
Production of Sweethearts for Valentine's Day has already begun. There's still a chance to submit your slogan ideas for next year, however. NECCO must produce about 100,000 pounds of the candy hearts every day in order to meet the Valentine demand, when about 8 billion hearts are sold in six weeks.
Conversation hearts were invented in the 1860s by the brother of NECCO's founder. These first hearts had printed paper notes tucked inside. The lengthy, old-fashioned sayings included such wistful thoughts as "Please send a lock of your hair by return mail."
Candy Hearts Archive

2009 Candy Hearts

Recipe 4 Love
Table 4 Two
Stir My Heart
My Treat
Top Chef
Sugar Pie
Sweet Love
Honey Bun
Spice It Up
Yum Yum

2008 Candy Hearts

MELT MY HEART
IN A FOG
CHILL OUT
CLOUD NINE
HEAT WAVE
SUNSHINE
GET MY DRIFT
WILD LIFE
NATURE LOVER
DO GOOD

2007 Candy Hearts

COOL CAT
PUPPY LOVE
TAKE A WALK
MY PET
BEAR HUG
TOP DOG
URA TIGER
GO FISH
LOVE BIRD
PURR FECT

2006 Candy Hearts

TO
AND
ILU
HOME SOON
SWEET HOME
HOUSE PARTY
GO HOME
HOME SICK
CALL HOME
HOME RUN

2005 Candy Hearts

#1 FAN
FIT FOR LOVE
DREAM TEAM
LOVE LIFE
BE A SPORT
LOVE MY TEAM
CHEER ME ON
BE MY HERO
HEART OF GOLD
ALL-STAR

2004 Candy Hearts

3 WISHES
EVER AFTER
NEW YOU
MAGIC
DREAM
CHARM ME
START NOW
NEW LOVE
IM ME
I LOVE YOU