Wimbledon 1998
Updated February 21, 2017 |
Factmonster Staff

From the Spotlight Archive:
This feature appeared in June 1998
Wimbledon Preview
by John Gettings
For the first two weeks of summer the world's greatest tennis players will converge in Wimbledon, England for the 111th Wimbledon Championships.
Officially called "The Lawn Tennis Championships at the All England Club, Wimbledon," the tournament will host 192 athletes, competing for the men's and women's singles titles this year. Their battleground is the manicured grounds at the All England Lawn Tennis & Croquet Club, which boasts 70 grass courts spread out over the club's 42 acres.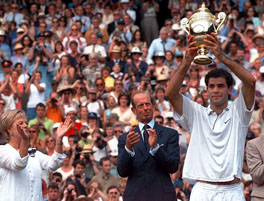 The Duke and Duchess of Kent politely applaud American Pete Sampras' victory in 1997, but the royals and the home crowd hope this year's men's singles title will stay in the UK for the first time in 61 years.
Source:Wide World Photos
Wimbledon has been the sport's most prestigious tennis event since the tournament's inception in 1877, and the list of winners could easily be mistaken for the roll at the International Tennis Hall of Fame. All the greatest players have left their marks at Wimbledon.
Martina Navratilova is Wimbledon's most prolific champion, winning the women's singles title nine times between 1978-90. Willie Renshaw, who dominated the event at the turn of the century, has the most men's titles with seven.
The tournament got off to an uneventful beginning in 1877 when Spencer Gore won the first men's title from a field of 22 players. The women's singles and men's doubles competitions were first held seven years later, and the women's doubles and mixed doubles matches were added in 1913.
Last year, Pete Sampras won his fourth Wimbledon title at the age of 25 with a 6-4, 6-2, 6-4 victory over Cedric Pioline. He now has more titles than legends John McEnroe, Jimmy Connors and Fred Perry. Martina Hingis became the youngest woman to win the singles title in 1997 when at age 15 years, 282 days she defeated Jana Novotna 2-6, 6-3, 6-3.
Sampras and Hingis were each awarded the top seeds this year. Wimbledon is the only Grand Slam tournament which can deviate from the rankings in seeding its players. Organizers take into consideration a player's grass-court expertise and Wimbledon record in seeding the top 16 men and 16 women. For example, eight-time winner Steffi Graf, who is ranked 91st in the world, is seeded fourth at Wimbledon this year.