Winter Olympics Memorable Moments: Eddie "the Eagle" Edwards
Updated February 21, 2017 |
Factmonster Staff

The comically inept British "ski jumper"
by Gerry Brown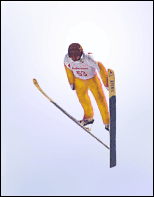 Related Links
Memorable Moments
He soared like a brick into the hearts of Olympic fans across the world. Eddie Edwards, a comically inept British ski jumper didn't come close to winning any medals in the 1988 Calgary Games. In fact, he finished dead last in both the 70- and 90-meter jumps.
He did, however, win a large amount of fame and a small fortune thanks to his complete lack of skill and lovably goofy look. Sarcastically nicknamed "the Eagle," he dropped into the public consciousness and was easily the most popular athlete to compete that year.
The doughy, bespectacled former plasterer with the silly grin parlayed his 15 minutes of fame into a $65,000 deal to tell his life story to a tabloid and—no joke—a number-two song ("Mun Niemi En Eetu" or "My Name is Eddie") in Finland in 1991.
Even IOC president Juan Antonio Samaranch, though privately critical of Edwards for appearing to mock the Games with his fish-out-of-water performance, seemed to embrace him during his speech at the closing ceremonies.
"[At Calgary] people set new goals, created new world records, and some even flew like an eagle," he said to raucous applause.
Despite the kind words, the IOC subsequently instituted what is known as the Eddie the Eagle Rule, which requires Olympic hopefuls to finish in the top third of an international competition, or among the top 50 competitors, whichever is less. This effectively eliminated Edwards from future Games.
The eagle returned to his nest, Calgary, in 2008 during the 20-year anniversary of the Games. And he will "fly" once more in 2010 as one of 15 special international torchbearers. Spectators who cheered him on in 1998 may not recognize Eddie the Eagle-his trademark thick glasses are gone thanks to corrective surgery, and his jaw has been realigned due to repeated breaks caused by jumps gone wrong. But Eddie's Olympic spirit remains intact and will be on display as he carries the torch through Winnepeg in January.