World Cup 1998
Updated February 21, 2017 |
Factmonster Staff

Click here for the 1998 World Cup Wrap-up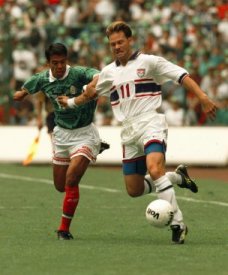 Forward Eric Wynalda (r) and the rugged American squad hope to better their surprising success of the '94 World Cup. They have a tough road ahead, however, being placed in a group with powerhouses Germany and Yugoslavia.
Source: Wide World Photos
Spotlight on the World Cup
by Gerry Brown
It is truly the global game. Soccer, as it is known in the United States because we already had something named football, is the most popular participation and spectator sport in the world. So every four years when it comes to decide the greatest team in the greatest sport, people pay attention.
Until 1994, when the US hosted its first World Cup, the tournament barely got mention in the country's sports pages and newscasts. But that year when the world turned its eyes to the States for soccer's biggest showcase, we Americans seemed to catch on that, hey, five billion people can't be wrong. Helping soccer's growth in America was the strong showing the US team had, advancing to the second round after beating heavily-favored Colombia.
While the 1998 United States squad is better than their '94 counterparts, the road to the second round is also tougher. The U.S. faces Germany, one of the world's elite teams, right off the bat and then has to face offensive powerhouse Yugoslavia after playing Iran in what should be an interesting politically-charged game for both teams. Iran, although a considerable underdog in this game, will be pumped up to play against the country it calls "The Great Satan."
Here's a quick look at "The Great Satan" and some of the other teams that should stand out at France '98.
The 32-team tournament is broken up into different segments. The first phase is round-robin group play. There are eight groups of four teams. Only the top two teams in each group will advance to the second round. From the second round on, the tournament will be single-elimination (you lose, you leave). In case of a draw in these games, two 15-minute sudden-death overtimes will be played. If the score is still tied, the game will be decided on penalty kicks.
Now it's time to make some predictions. Here are the Information Please picks to advance to the second round and beyond.
Click here for historical information on the World Cup from the Information Please Sports Almanac.

—Gerry Brown is the Sports Co-Editor at Information Please.