/ Albania
/ History
Albania History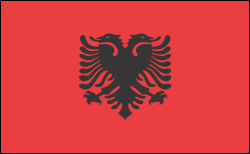 Index
History
Moving Toward Democracy
Elections in March 1991 gave the Communists a decisive majority. But a general strike and street demonstrations soon forced the all-Communist cabinet to resign. In June 1991, the Communist Party of Labor renamed itself the Socialist Party and renounced its past ideology. The opposition Democratic Party won a landslide victory in the 1992 elections, and Sali Berisha, a former cardiologist, became Albania's first elected president. The following year, ex-Communists, including Ramiz Alia and former prime minister Fatos Nano, were imprisoned on corruption charges.
But Albania's experiment with democratic reform and a free-market economy went disastrously awry in March 1997, when large numbers of its citizens invested in shady get-rich-quick pyramid schemes. When five of these schemes collapsed in the beginning of the year, robbing Albanians of an estimated $1.2 billion in savings, Albanians' rage turned against the government, which appeared to have sanctioned the nationwide swindle. Rioting broke out, the country's fragile infrastructure collapsed, and gangsters and rebels overran the country, plunging it into virtual anarchy. A multinational protection force eventually restored order and set up the elections that formally ousted President Sali Berisha.
In spring 1999, Albania was heavily involved in the affairs of its fellow ethnic Albanians to the north, in Kosovo. Albania served as an outpost for NATO troops and took in approximately 440,000 Kosovar refugees, about half the total number of ethnic Albanians who were driven from their homes in Kosovo.
---