/ Angola
/ News and current events
Angola News & Current Events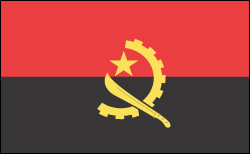 Index
News and Current Events
Peace Is Achieved, but Domestic Suffering Continues
On Feb. 22, 2002, government troops killed Jonas Savimbi, and six weeks later, on April 4, rebel leaders signed a cease-fire deal with the government, signaling the end of 30 years of civil war. While peace finally seemed secure, more than a half-million Angolans were faced with starvation.
Angola is the second-largest oil producer in sub-Saharan Africa, yet its people are among the continent's poorest. The corruption under the Dos Santos government bears much of the blame. According to the International Monetary Fund, more than $4 billion in oil receipts have disappeared from Angola's treasury in the last six years.
In Aug. 2006, a peace deal was signed with separatist rebels from the Cabinda region. That clash had been called Angola's ?forgotten war.? About 65% of Angola's oil comes from the region.
In Angola's first national elections in 16 years, held in Sep. 2008, the governing Popular Movement for the Liberation of Angola (MPLA) won about 82% of the vote. The opposition, the National Union for the Total Independence of Angola (Unita), took 10%. The landslide victory gave the MPLA a two-thirds majority in Parliament.
Prime Minister Position Abolished
In early 2012, the position of prime minister was abolished due to the ratification of the 2008 Constitution of Angola. The Constitution transfers the functions of the prime minister to the president. The president must have the approval of the parliamentary majority in the same way as the prime minister did before.
See also Encyclopedia: Angola .
U.S. State Dept. Country Notes: Angola
---